Economists see the housing changes announced by the Government as having a chilling effect on investor demand and acting as a significant drag on house price growth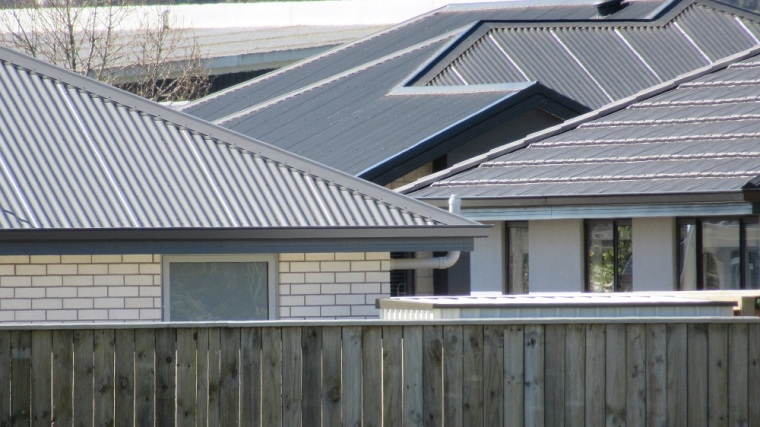 The housing changes announced by the Government are set to dampen investor demand and considerably take the steam out of the housing market, economists say.
And economists at the country's largest mortgage lender ANZ say there's now an increased chance that house prices might actually fall.
ANZ chief economist Sharon Zollner and senior economist Miles Workman say they expect the announcements from the Government to have a "meaningful impact on investor housing demand" and make a decent start on the complex question of improving house supply.
"The moderation in house prices we were already expecting is likely to be sharper, and the odds of house prices falling have risen," they say.
Investors no longer being able to deduct interest costs is the "most significant policy change" from a housing momentum perspective as it should help take the wind out of the sails of the housing market, they say.
"That's something that we were already expecting to happen in the second half of this year on the back of affordability and credit constraints, and tighter LVR settings, but today's announcements increase the risk that the house price moderation is sharper. But importantly, it increases the risk that house prices actually fall – it's very difficult for policy makers to engineer a soft landing."
Westpac senior economist Satish Ranchhod says Westpac economists have frequently highlighted that financial factors play a dominant role in determining house prices, "and investors account for a large share of the housing market".
'A chilling effect on investor demand'
"Today's announcements – particularly the changes to interest rate deductibility – will significantly reduce the financial incentives to invest in housing. That will have a chilling effect on investor demand," Ranchhod says.
"Before today, we were already expecting house price growth to slow through the back half of this year as we forecast mortgage rate rises. Today's developments indicate material downside risk to that forecast." 
ANZ's Zollner and Workman say "it's very hard to know" how investors will respond.
"The impacts might be quite slow burn, as the lengthy implementation period adds uncertainty around the shelf life of these policy changes, and the tax impact is smaller because mortgage rates are currently so low. Some may be able to recoup the higher cost by lifting rents. Some may no longer see housing as a viable or desirable investment and will look to sell. Others (without debt) will be relatively unaffected.
"In reality there will be a mix of reactions, which make it very difficult to gauge the magnitude of the response in aggregate. But we know this is a negative. Stepping back, there is a lot on the policy front that's coming to a head as affordability and credit constraints lift and supply continues to gradually ramp up.
"House price falls are hardly unthinkable from such a stratospheric starting point," they say.
Westpac's Ranchhod says that as the Government's announcements are "likely to be a significant drag on house price growth", the Westpac economists are expecting this to "reverberate" through economic activity more generally.
"The housing market plays a key role in shaping economic conditions more generally," he says.
Interest rate hikes 'off the table'
"In particular, growth in house prices tends to be associated with increases in household spending and residential construction. We'll review our economic forecasts in light of these changes over the next few days.
"In terms of the RBNZ [Reserve Bank], today's announcements mean that [Official Cash Rate] hikes are clearly off the table for the foreseeable future. With a likely slowdown in house prices, the economy's recovery is likely to be even more gradual. That will make it even harder to generate a sustained lift in inflation," Ranchhod says.
Also commenting on the broader economic perspective of the Government announcements, ANZ's Zollner and Workman say slowing housing-induced momentum shouldn't be too concerning so long as the pipeline of planned activity is not materially dented and a pivot towards a trans-Tasman bubble (and later, generally open borders) see the key driver of underlying momentum pivot from housing to international tourism and services. And they note that rising export prices are also providing a boost.
"But the economy is still pretty vulnerable this year, and the state of the housing market does have a big impact on the New Zealand economy.
"The counterargument to that is that if house prices were allowed to rise unchecked still further from here, the vulnerability of the economy would worsen, not improve, as the risks of a boom-bust cycle rose. The big negative externality is the possible impact on renters–the very people the Government is trying to help into the housing market. But ultimately, rents inflation can't exceed income growth for long."
Zollner and Workman say there will also be implications for monetary policy.
Increased potency of higher interest rates
"The Reserve Bank will certainly add a sharp housing slowdown to its 'negative risks' basket, and likely revise down its house price forecasts. This will add caution around OCR hikes via less-than-otherwise housing-induced domestic momentum. But perhaps more importantly, the policy change will increase the sensitivity of landlords to higher interest rates, thereby increasing the potency of higher interest rates." 
Kiwibank chief economist Jarrod Kerr, senior economist Jeremy Couchman and economist Mary Jo Vergara say the announced $3.8 billion Housing Acceleration Fund "is a superb idea". Unfortunately, they say, it's a superb idea that's already under-resourced.
"The size of the fund is tiny, and hard to take seriously. We know it will grow; it must. But we should have seen a more respectable figure the fund could grow into, rather than a 3.8 figure the fund will grow out of in five minutes. 
"...$3.8 billion is merely a drop in a leaky bucket, and is unlikely to have a meaningful impact on infrastructure investment or housing supply. But it is a positive step in the right direction. It is important to grow the fund, so the funds can truly accelerate councils. The greatest challenge developers face is finding viable land to develop, and getting council consent to develop.'Accelerating' the consent process is what's needed, they say.