Mortgage broker John Bolton explains why he thinks mortgage rates are peaking, what's going on in the housing market, and what this means for the broader economy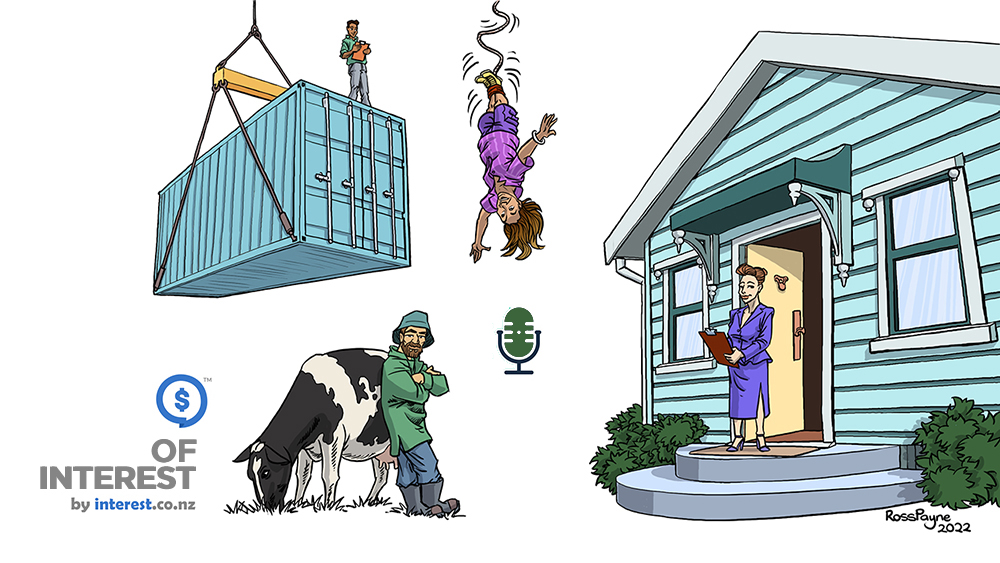 By Gareth Vaughan
Whilst the Reserve Bank views the Official Cash Rate (OCR) at its current level of 2% as neutral in that it's neither stimulating nor constraining economic activity, the steep rise in mortgage interest rates over the past year means they are well past a neutral level and are unlikely to rise much further, mortgage broker John Bolton says.
Bolton, founder and executive director of mortgage broker Squirrel Mortgages, spoke to interest.co.nz for the latest episode of the Of Interest Podcast.
While the average bank two-year fixed mortgage rate, typically the most popular term with New Zealand borrowers, bottomed out at about 2.51% in mid-2021, it's now at 5.4%. This type of move leads to big repayment increases, or mortgage shock, for borrowers when they refix their mortgages. 
But Bolton says after the sharp rise in mortgage rates, he believes they are starting to peak.
"I don't think they're going much higher. We are going to go into a recession, and I think even in the last week or so you've started to see the swap [rate] market come off a little bit. I think the economy's going to come off quite hard and fast, and you're going to see those longer term swap rates [which influence bank mortgage rate pricing] come back a bit," says Bolton.
"We talk about the OCR being neutral at 2% but we are not neutral, we are way past neutral at the moment. Because the Reserve Bank has talked it up so hard that mortgage rates are already pretty much pricing in every [future] OCR increase. We've tightened incredibly fast. So it's not surprising that has flowed through to the housing market. I mean we shouldn't be surprised."
The Reserve Bank is forecasting the OCR will peak at about 4% by mid-2023. It started increasing the OCR from its record low of 0.25% as recently as October last year.
"The OCR's going to go up but it's already fully priced into mortgage rates, so I think mortgage rates are going to start to stabilise quite quickly. We get this panic that runs through our market and everyone's like '[mortgage] rates could get to 8% or 9%'...Clearly no one could afford that. So I think that panic will start to dissipate when people start to see that interest rates are stabilising, they're not nearly moving as quickly as they have been. And that people just settle into the fact that, 'ok I've got to plan a future that says that mortgage rates are going to be hovering around 5% to 6%.' That's not the end of the world for most people and most people can adjust to that. So that will just gradually work its way through and people will get used to it," Bolton says.
"We're not seeing a lot of [mortgage] distress, I think we're starting to see a little bit. But the distress that we're seeing is probably people that just need to adjust their living expenses. Every generation goes through this."
He does, however, see higher mortgage rates having a broad impact on the economy by reducing the discretionary spending of mortgage holders.
"The thing that I find with the higher mortgage rates is it's going to translate into the real economy really fast because about 60% to 70% of the housing market is fixed on terms of less than a year. So you're going to get a really rapid reduction in discretionary income. When you reduce discretionary income, you're taking it out of hospitality, takeaways, retail, domestic tourism. So we're talking about a whole lot of industries that have been through two years of pain already that are now losing their customer base really, really fast. People just aren't going to be eating out as much, they're not going to be taking those domestic holidays...There's an increasing part of the population that's thinking 'I've got to hunker down for a while'," Bolton says.
In terms of house prices, Bolton estimates they are down between 10% and 15% from last year's peak already. 
"The media's going to be reporting that [falling house prices ] for at least another six to 12 months. I think most of the absolute change is already there in the market, [but] it's going to take a while to work its way through in the statistics," says Bolton.
"They [prices] are down 10% to 15% in absolute terms, I don't see them going much further. I think it will stabilise around that level. I think there will be vendors that just take their properties off the market, and there's not a lot of supply out there."
Parts of the market, where there's still a supply-demand imbalance, are still holding up quite well, Bolton says, adding that the house price fall isn't as big a drop as seen in the prices of other assets.
"The S&P 500's down over 20% this year, the Nasdaq's down 30%, crypto's down 60%. The everything bubble's popping, [and] property has probably done comparatively well. Where else do you put your money?"
In the podcast Bolton also talks about bank behaviour, cashbacks being offered to borrowers, the opportunity for non-bank lenders, the impact of December's changes to the Credit Contracts and Consumer Finance Act, comments from Reserve Bank Chief Economist Paul Conway that the tide may have turned on housing being a one-way bet, the residential property development market, and more.