Pressure on the Government to do its bit to stimulate the economy likely to increase, with the Reserve Bank expected to cut interest rates even lower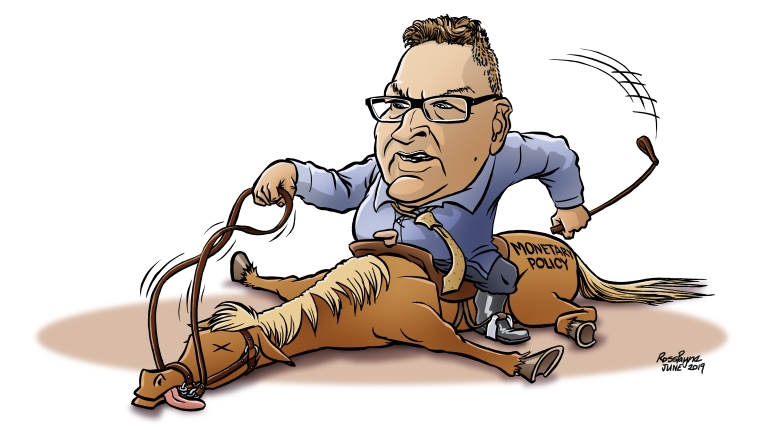 By Jenée Tibshraeny
The Government can expect to come under the spotlight as much as the Governor of the Reserve Bank (RBNZ) this week.
The RBNZ's Monetary Policy Committee (MPC) is widely expected to cut the Official Cash Rate (OCR) by 25 basis points on Wednesday to a new record low of 1.25%.
With the review to be accompanied by a Monetary Policy Statement (released quarterly), economic observers will be looking for hints as to the Committee's next move.
Central banks around the world have cut interest rates since the last OCR cut and Monetary Policy Statement release in May, and the state of the domestic economy has deteriorated. So the focus will be on when the MPC will cut again and how many cuts are on the horizon.
Economists less than a year ago thought interest rates were going up. But further to ANZ's chief economist Sharon Zollner raising eyebrows before Christmas by forecasting cuts down to 1% by 2020, her counterparts at other organisations have slowly changed their tunes.
Now economists from most of the major banks see Wednesday's cut being followed by another one in November, if not earlier.  
There isn't enough fire power in the economy to boost prices to the RBNZ's target inflation range. And while the labour market (a lagging economic indicator) has been tight, the outlook isn't great.
What's more, if the RBNZ doesn't to some extent follow a similar trajectory to other central banks, there's a risk the New Zealand dollar will shoot up, making New Zealand goods relatively expensive, and thus harming exporters.
ASB economists noted the reason the dollar hasn't been higher, particularly after the US's Federal Reserve cut interest rates last week for the first time in 11 years, is because markets expect the RBNZ to likewise trim rates.
As the RBNZ uses the monetary policy tools it has to stimulate the economy, the Government should expect to come under further scrutiny over whether it's doing its bit to boost growth.
Question marks over extent of capacity constraints
Finance Minister Grant Robertson allocated more money to new spending initiatives than expected in Budget 2019 while sticking to his Budget Responsibility Rules.
Unsurprisingly, he was criticised by those in the "quality over quantity" (largely National Party) camp for not allocating money to the right areas.
Meanwhile he copped flak from others for not making better use of the low interest rate environment to borrow more to invest in infrastructure needed to boost growth and improve productivity.
Robertson leaned on capacity constraints - IE low unemployment and the RBNZ's output gap measure showing the economy was largely producing everything it could - to swat away some of these claims.
Motu Economic and Public Policy senior fellow, Arthur Grimes, was among those to make the argument that Robertson couldn't borrow more because he'd struggle to get the money out the door.
However ASB economists questioned whether there was in fact more slack in the labour market than the headline figures suggested.
"The Reserve Bank of Australia recently changed its view about the degree of slack in the Australian labour market," they said.
"It's lowering of the estimated 'full employment' rate to around 4.5% implied there was much more spare capacity in the labour market than previously thought, given the prevailing unemployment rate of over 5%.
"This was key in the RBA's decision to lower its cash rate 50bps over June and July."
Scrutinising New Zealand's June quarter labour market figures out on Tuesday will therefore be crucial.
If the RBNZ gives a stronger indication than it did in its May Monetary Policy Statement that there is in fact more slack in the labour market, then the focus will turn back to Robertson.
Yes, there are capacity and capability pressures, but should the Government up the ante on the borrowing front, do more to over-ride planning rules stymying development and bring in the labour required to get the job done?
Should Robertson look past the political fallout that would ensue if he broke his self-imposed budget responsibility rules and brought forward the broadening of his net Crown debt target to a range of between 15% and 25% of gross domestic product from 2021/22 to 2019/20?
Robertson avoided putting his foot in it ahead of seeing the labour figures, when interest.co.nz on Thursday asked him whether he believed there were more people available to build roads, railways, etc than the figures would suggest.
"We'll look at what the participation rate figures are, and clearly I think there may be some. But equally we know that if we're going to be able to meet the needs the government has, that will be a mix of us training, re-training and migration as well," he said.
Flogging a dead horse 
Kiwibank chief economist Jarrod Kerr believed the "austerity" approach taken since the 2008 global financial crisis wasn't doing enough to truly get economies out of the doldrums.
He said interest rate cuts are meant to encourage public and private investment, but a lack of fiscal stimulus had drawn out the recovery.
Kerr said you didn't want to wait for people to be laid off before recognising there is free capacity.
"Where there's a will, there's a way. Where there's a problem, there should be a solution," he said, singing very loudly off the, 'We need more fiscal stimulus' song sheet.
While Infometrics economist Brad Olsen isn't as much of an advocate for more government spending as Kerr is, he noted: "There's a lack of pass-through of the OCR to retail rates, with May's 25bps cut only taking the floating mortgage rate down 12bp.
"The gap between the floating rate and the OCR continues to increase, highlighting the reduced effectiveness of lowering the OCR.
"Even though retail interest rates will continue to fall if the OCR is cut lower, a) it's not all going to be passed on and b) it's not going to make much difference to decision-making anyway, with uncertainty holding back business investment, rather than borrowing costs."
While RBNZ Governor Adrian Orr is known to sport an undone top button, it might be Robertson who gets a bit hot around the collar this week.