Westpac acting chief economist Michael Gordon says the starting point for the NZ economy in this cycle is 'wildly stronger' than the Reserve Bank expected, and the upside risks for inflation are growing
Westpac economists are now picking the Official Cash Rate (OCR) will hit 3% by 2023 and they say that the Reserve Bank (RBNZ) will need to run a "tight" monetary policy for some time.
The move by the Westpac economists after the release of Wednesday's incredibly strong employment figures represents a further move by economists into expecting more and more action will be necessary by the RBNZ to dampen inflation that's now looking likely to be stronger and longer than economists - and global central banks - were hoping.
The RBNZ began raising interest rates last month with a hike in the OCR from 0.25% to 0.5%. It's widely expected to raise the OCR again in its next review on November 24.
Generally major bank economists have been picking that the 'peak' of this hiking cycle would be a fairly mild one of around 2% and that inflation pressures would dissipate. That thinking is gradually evolving as the inflationary pressures start to look stronger and probably more persistent.
Westpac acting chief economist Michael Gordon said with Wednesday's labour market surveys, "another major data point for the New Zealand economy has shot the lights out".
"...The starting point for the economy is wildly stronger than the RBNZ expected, and the upside risks for inflation are growing," he said.
Westpac's Gordon said the "accumulated evidence" was clear that demand is running very hot, and that the Reserve Bank will need to take more action to cool things down.
"What's more it's looking increasingly unlikely that the RBNZ will be able to achieve a smooth glide path towards a long-run 'neutral' level of the cash rate, and that interest rates will need to be meaningfully higher for some period of time."
He's now forecasting that the RBNZ will have to take the OCR above what would be regarded as a 'neutral' level - and to actually have to run tight monetary policy. 
That's a departure from what other economists have been saying to this point.
"We're now forecasting the Official Cash Rate to rise to a peak of 3% by mid-2023, from its current level of 0.5%. While that wouldn't be particularly high compared to history, it would represent much more than just an unwinding of the stimulus that was put in place in response to Covid-19. And it would be some way above where the 'neutral' cash rate is generally assessed to be (around 2%).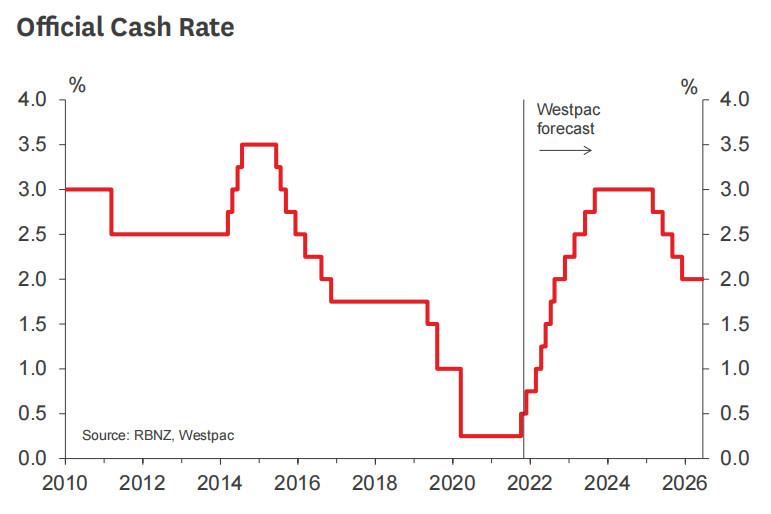 "We'd emphasise that we're predicting that monetary policy will need to be 'tight' for some time in order to bring demand under control, before settling back towards a 'neutral' setting. With that in mind, we've also pencilled in a series of OCR cuts back to 2% in 2025.
"But we're really trying to convey the general direction rather than the timing – predicting the next phase of interest rates is hard enough, let alone the next two phases."
In terms of what the RBNZ might decide to do later in the month with the OCR, Gordon said on the RBNZ's own framework, "there's a reasonable case for a 50bp hike this month".
"But there's rarely a 'smoking gun' argument for these kinds of tactical decisions. And the uncertain impact of the current Covid outbreak offers a counter-argument for more cautious action.
"...We've come down on the side of 25 basis point moves, but as we've noted before, the odds of a 50 basis point move are reasonably high. For one thing, the RBNZ itself said that it actively considered this option in its August review – and the economic case for it is stronger now than it was back then."