UST 10yr can't break above 2.5%, eyes on US CPI. NZD the only currency to gain on the greenback. EU confidence improves, but still no idea of end to QE despite German prodding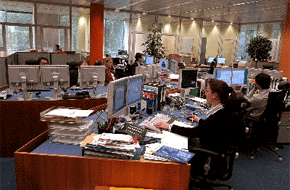 Markets were subdued overnight, with only small moves seen across asset classes.  US stocks consolidated near record levels amid continued low volatility while the USD increased a little overnight.  The NZD outperformed.  
With no major data overnight, there wasn't much to move markets.  Following last week's 2.6% rise, the S&P 500 was flat as the market awaited the start of earnings season in the US which kicks off this week.  Risk sentiment still remains very strong amid strong global growth, continued modest inflation and low volatility. 
The 10 year US Treasury yield continues to hover a little below 2.50%, a level it hasn't breached since March last year.  The market prices almost an 80% chance the Fed will raise rates at the March meeting and a bit more than 2 hikes in total in 2018.  A number of Fed speakers are scheduled to speak this week, including Bostic, Williams and Rosengren this morning.  However, with the market already close to fully-priced for the next rate rise, it doesn't seem likely there will be a major market impact.  Williams said on the weekend that "something like three rate hikes makes sense."  Core CPI, which is released on Friday, should be the major focus for US rates this week. 
The USD strengthened overnight, although as with other markets, the moves were reasonably muted.  The NZD was the only currency to strengthen against the USD overnight, albeit marginally, and it sits near 0.72.  The NZD has been supported by the strong global growth backdrop and high risk appetite this year.  Market positioning may also have played a role in the NZD strength; the latest CFTC data released last week showed near-record speculative shorts in NZD futures. 
The EUR fell below 1.20 overnight despite more positive economic data from the Eurozone.  European Economic confidence rose again, to its highest level since 2000 while retail sales also surprised on the upside.  Meanwhile, Bundesbank President Wiedmann reiterated that a clear end date to the ECB's QE program is justifiable, although his hawkish comments were always unlikely to take the market by surprise.  The EUR's failure to push above 1.21 may also be partly explained by market positioning.  CFTC positioning data showed record net long positions in EUR futures last week.  NZD/EUR hit 0.60 overnight, its highest level since early November. 
The GBP is also marginally weaker overnight.  UK PM Theresa May announced her cabinet reshuffle overnight, although all the senior minister remained in place.  The Telegraph reports that May is considering created a "minister for no deal" cabinet role, which would be responsible for drawing up contingency plans if the UK leaves the EU without a trade deal.  Despite this talk, we still expect a transitional deal to be agreed between the UK and the EU this year and for NZD/GBP to move below 0.50 at some point.  It's currently sitting just below 0.53. 
In terms of the day ahead, we have mostly second-tier economic data while the Fed's Bostic, Williams and Rosengren will all be speaking.  The major focus will be US earnings reports and CPI later in the week. 
---
Get our daily currency email by signing up here:
---
BNZ Markets research is available here.