Statistics New Zealand says the 12.2% shrinkage of the economy in the June quarter is 'by far the largest on record in New Zealand'; the fall is in line with what major bank economists forecast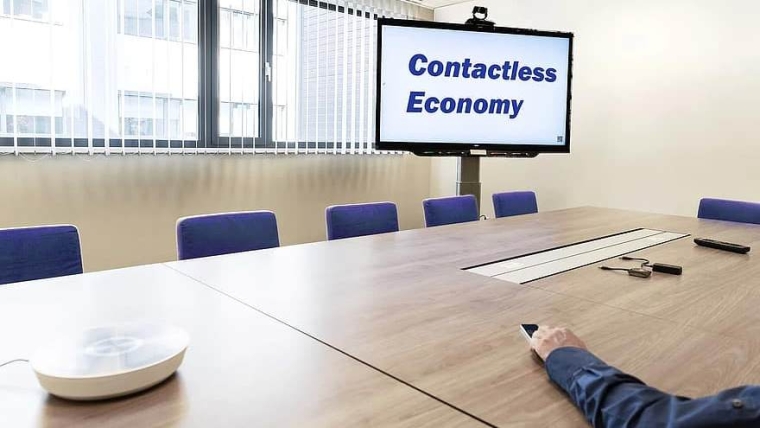 They said it would be huge - and it is. The economy shrank by 12.2% in the Covid lockdown-afflicted June quarter, which is much the largest quarterly fall New Zealand has seen, though is in line with what major bank economists were forecasting.
The massive drop in GDP, following a 1.4% fall in the March quarter (revised down from an originally announced -1.6% figure), confirmed the country as being in recession (with two consecutive quarters of minus GDP growth being the technical description of a recession).
Additionally, the big drop in the June quarter saw annual GDP to June fall 2%, which is the first annual decline in GDP since the March 2010 quarter when New Zealand was still grappling with the aftermath of the Global Financial Crisis.
The figure for the June quarter is, believe it or not, somewhat lower than had been predicted earlier in the year by economists due to the fact that New Zealand ended up spending less time in lockdown than was earlier thought. 
Treasury had at the time of the May Budget forecast a 23% drop and was, as recently as Wednesday's Pre-election Economic and Fiscal Update, forecasting a 16% drop. The Reserve Bank forecast -14.3% in its August Monetary Policy Statement.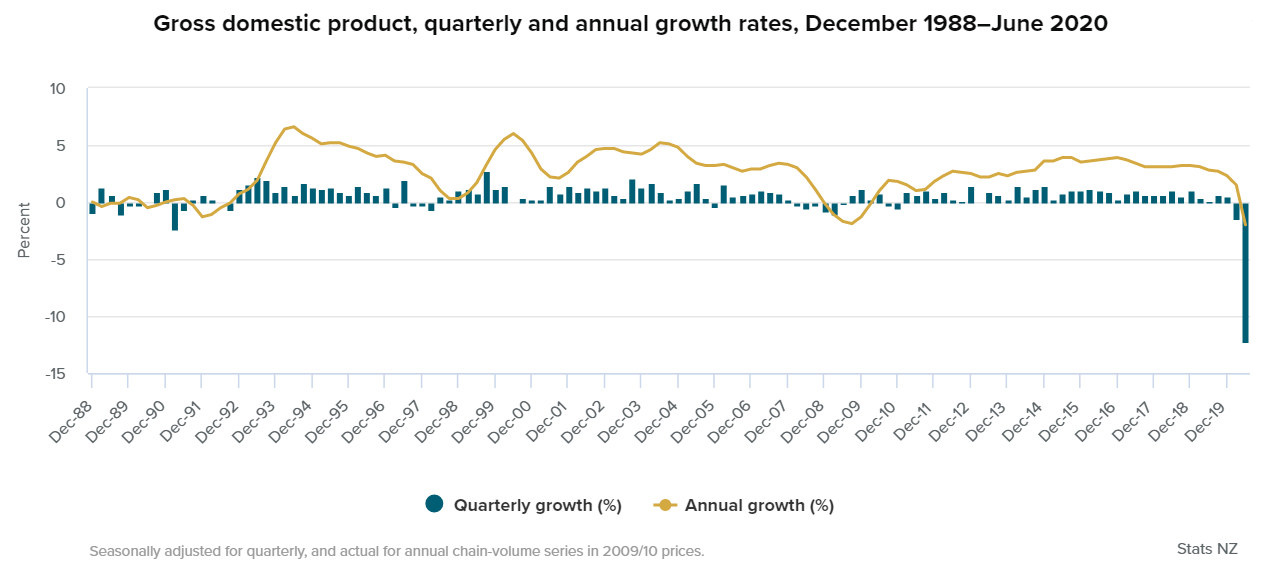 Stats NZ had difficulties putting together the data given the most unusual circumstances of the near shutdown that occurred during the Level 4 lockdown. Given that, its expected that the figure released on Thursday will act as really only a starting point for measuring the extent of the fall in activity during the quarter and there will be subsequent revisions.
ASB chief economist Nick Tuffley and senior economist Jane Turner said despite the elevated level of uncertainty heading into the release, "there were no material surprises from our perspective". 
"The falls were largest in industries most exposed to border closures or unable to operate under Alert Level restrictions.  Essential activities and activities which could be completed remotely saw smaller than average declines. 
"In terms of economic implications – its not so much the size of the decline, but the size of the recovery which matters.  Q2 GDP has fallen by less than earlier estimates – in large part due to activity recovering faster and stronger during Alert Level 2 and 1 over the second half of the quarter.  We expect these trends to continue and – despite the setback of the August outbreak – we expect to see a firm rebound in Q3 GDP." 
Kiwibank chief economist Jarrod Kerr, senior economist Jeremy Couchman and economist Mary Jo Vergara said the GDP report was "expectedly weak". "There were few surprises to be fair. You lock up the economy, activity falls," they said.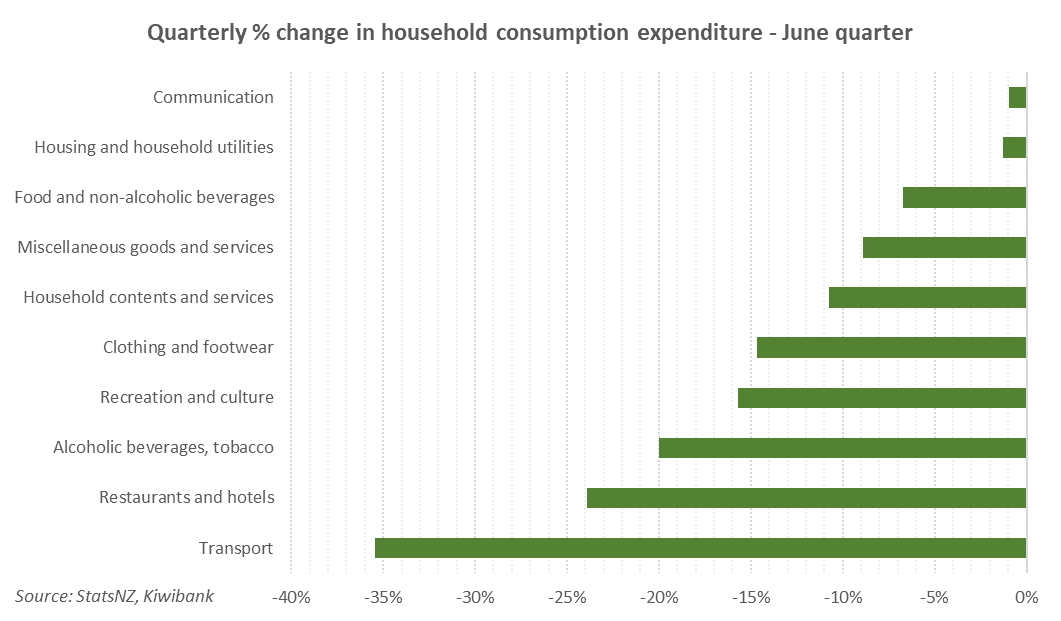 "As economists, we love trawling through data. And we've never seen anything like this. It was traumatic. Service exports were stonewalled, and down 40% in the quarter. Consumption was down 12%, and investment was slashed by 20%. Essential services obviously held up far better during the lockdowns, and recorded more modest declines. We were a little surprised by the weakness in imports, with fuel down more than we expected – hence the slight upside from our estimate of 12.5% and the actual 12.2%. Never have we recorded such declines. And never have we bounced back so quickly, either.
"There is little point getting hung up on Q2 numbers," the Kiwibank economists said.
"There is likely to be major revisions to the numbers by Stats NZ as new information comes to hand. Also, the biggest decline in activity on record will probably be followed up by the largest quarterly jump. We are almost in the December quarter. The rebound in activity in Q3 is likely to have been softened by Auckland's level 3 lockdown, but we are still picking a 10% qoq jump." 
ANZ senior economist Miles Workman said the September quarter is going to bring a very sharp (albeit partial) rebound, freeing the economy of its recessionary label, "but definitely not marking anything near a 'recovery' from this crisis".
"Indeed, we expect it will take about as long for activity to return to pre-crisis levels as it did following the Global Financial Crisis (9 quarters, see graph below).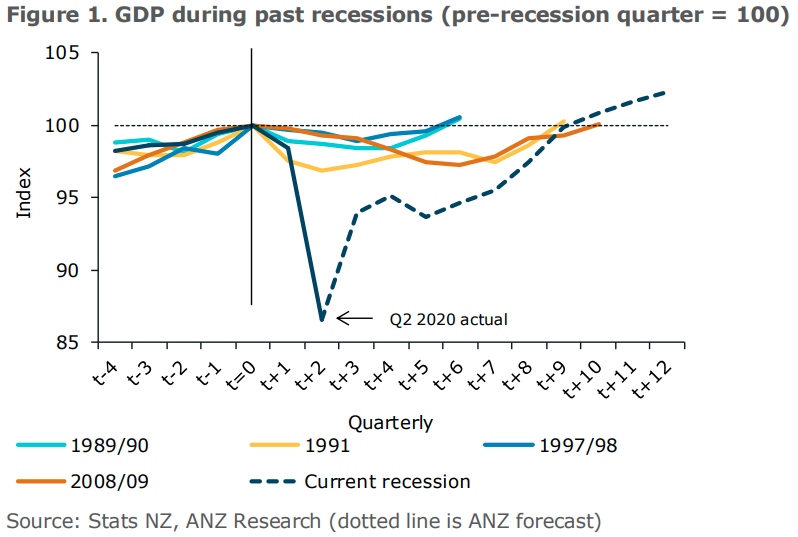 "However, given the scale of the lockdown-induced decline and the persistent impacts of this crisis, we expect the cumulative loss in activity will be around 3-4 times larger," Workman said.
"So while Q3 will bring a sharp recovery in quarterly growth, we shouldn't lose sight of the challenges that lie ahead. Policy makers certainly won't.
"It's the medium-term outlook that really matters for policy settings, and the lockdown-induced contraction in Q2 is only the first round of this economic shock. We're yet to really feel the full impact of the closed border and the sharp (and very synchronised) global contraction. Not to mention the fact that the economy is yet to be weaned off an unprecedented amount of temporary support (such as the wage subsidy and mortgage relief). Fiscal and monetary policy still has its work cut out."
BNZ head of research Stephen Toplis said there had been a lot of debate about whether New Zealand's lockdown in the second quarter warranted the economic cost of doing so.
"That debate will rage for many years but at least now we have a feeling for our relative economic experience. In short, what you can conclude is that, on average, our economic experience was modestly worse than average. The OECD average decline for the quarter was 10.6%. Our experience was notably worse than Australia's and large chunks of Asia but much better than the UK.
"But before we can draw too many conclusions, we must wait to see how things unfold from here. Take Australia as a case in point. There is no doubt Australia outperformed New Zealand in Q2 but we suspect, thanks almost exclusively to the Covid problems in the state of Victoria, that by the end of Q3 New Zealand and Australia's performance will be not that dissimilar. In the longer term we suspect the two key determinants of relative activity will be the effectiveness with which nation states contain Covid-19 and the extent an economy is reliant on tourism. At the moment we are ahead on the first determinant and behind on the latter."
This is what Statistics New Zealand had to say:
Gross domestic product (GDP) fell by 12.2% in the June 2020 quarter, the largest quarterly fall recorded since the current series began in 1987, as the Covid-19 restrictions in place through the quarter impacted economic activity, Stats NZ said today.

"The 12.2% fall in quarterly GDP is by far the largest on record in New Zealand," national accounts senior manager Paul Pascoe said.

Measures to contain Covid-19 have led to historically large falls in GDP in many parts of the world, with countries' results reflecting the nature and timing of their responses, and the structure of their economies. For example, New Zealand's result compares to falls of 7.0% in Australia, 11.5% in Canada, 7.9% in Japan, 20.4% in the United Kingdom, and 9.1% in the United States.

New Zealand started the June 2020 quarter in alert level 4 lockdown, with strict restrictions on the activities of both households and businesses. On 8 June 2020 New Zealand reached alert level 1, which saw the removal of physical distancing requirements.

"While level 4 restrictions were in place for most of April, the gradual return to level 1 over the course of the quarter meant that businesses were able to open up again and many people returned to places of work,"  Pascoe said.

New Zealand's border closed to incoming international travellers on 19 March 2020 and remained closed throughout the June 2020 quarter.

Some industries were more affected than others by the border closure and alert levels restrictions in place during the June quarter.

"Industries like retail, accommodation and restaurants, and transport saw significant declines in production because they were most directly affected by the international travel ban and strict nationwide lockdown,"  Pascoe said.

"Other industries, like food and beverage manufacturing, were essential services and fell much less."

The majority of construction activity and some of the manufacturing sub industries were deemed non-essential and so temporarily shut under alert level 4. Construction declined by 25.8%, and manufacturing fell by 13.0%.

The fall in production was paralleled by declines in household spending, which fell 12.1% over the quarter. Expenditure on household services such as domestic and international air transport and restaurant and takeaway meals fell sharply. Exports of travel services declined, as international visitor spending fell after the border closed.

Annually, GDP fell by 2.0%. This is the first annual decline since the March 2010 quarter.

GDP per capita fell by 12.6% in the June 2020 quarter.

The speed and scale of Covid-19 response measures presented a number of measurement challenges in the June 2020 quarter. In compiling estimates of GDP, Stats NZ has used additional data and analysis to respond to areas where the standard approach has limitations. This additional work means that the impact of Covid-19 over the course of the quarter is accounted for as accurately as possible to produce reliable first estimates of GDP.

"Today's results represent the first official estimate of overall economic activity in the June 2020 quarter" Mr Pascoe said.

"As always, we'd expect to refine and revise this initial view as more complete data becomes available. This quarter is clearly not business-as-usual and there is generally a higher level of uncertainty associated with measuring such significant changes in economic activity. We have used extra data and careful analysis to minimise this uncertainty and provide a reliable first estimate for the quarter."

GDP estimates will be updated as more detailed but less timely information comes to hand. This is in line with standard practice in New Zealand and internationally.