The two major political parties take similar big picture views around how to grow the economy, what to do about inflated house prices, debt and Reserve Bank QE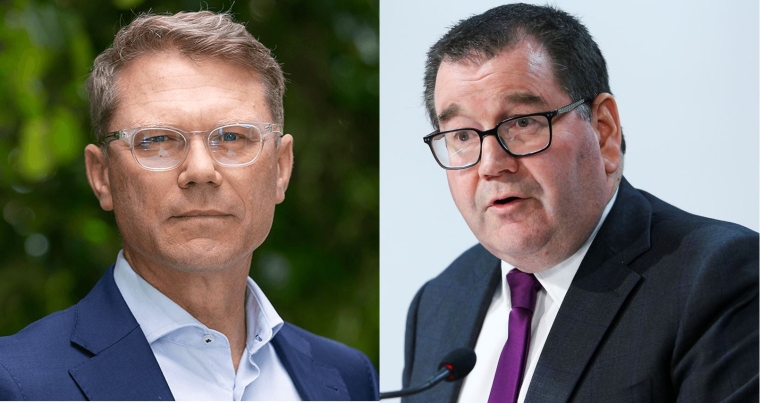 Labour and National are broadly campaigning on the same economic formula.
Both want investment in infrastructure to be a key driver of economic growth.
Neither are pledging to pivot the economy away from its reliance on house price and immigration growth.
Both see debt reduction as a goal.
Neither believe the Government needs to loosen its purse strings to the same extent the Reserve Bank (RBNZ) is loosening monetary policy.
Both see increasing the supply of housing as the key to improving affordability.
Both have ruled out slashing benefits and have committed to improving welfare, but not doing so near in line with the Welfare Expert Advisory Group's recommendations.
Both are pledging to make relatively minor tax changes - Labour by introducing a new top income tax rate, and National by adjusting income tax brackets according to inflation and making a raft of tweaks (on top of temporary changes already made due to Covid-19) to ease the tax burden on businesses.
Both want to encourage businesses to hire new staff - National's JobStart policy being larger and more broad-base than Labour's by subsidising businesses regardless of who they hire. Labour also wants to help SMEs by extending its interest-free IRD loan scheme.
The similarities between the two parties were laid out starkly on Wednesday, as they addressed media following Treasury releasing its Pre-Election Economic and Fiscal Update (PREFU).
The largest difference from a pure dollars and cents perspective is National's commitment to suspending contributions to the NZ Super Fund - worth about $7.7 billion over four years (excluding gains likely to be made on this investment). 
Robertson: 'Huge uncertainty' around house price growth forecasts
The headline-grabber of PREFU was the divergence between house price growth, CPI inflation and wage growth.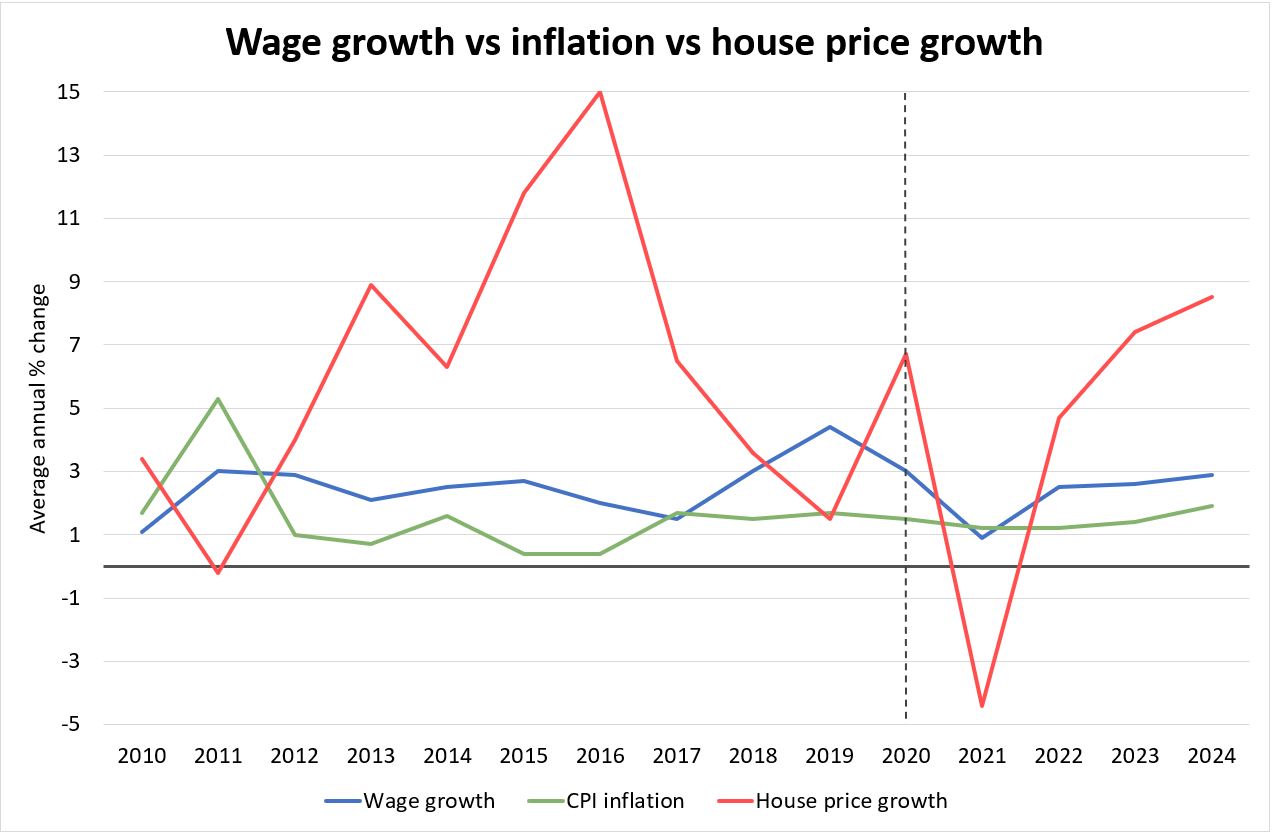 While Treasury forecast house prices dipping in the year to June 2021, it saw a steady recovery with the annual average change in the year to 2024 hitting 8.5%, all the while CPI inflation rebounds to 1.9%.
Put to Finance Minister Grant Robertson that the only thing immune to Covid-19 appeared to be the housing market, he recognised the impact the RBNZ's accommodative monetary policy (leading to low interest rates) was having on the market.
However, he downplayed the forecast increases, saying there was a "huge amount of uncertainty" around what would happen to prices.
Treasury said the risk in its forecasts were "upside", given the "recent resilience" of the market.
Robertson said increasing the supply of housing was his focus.
Asked whether he accepted inequality was likely to increase on the back of disproportionately strong house price growth, Robertson responded: "We think the interventions we're making across a range of things from housing, to incomes, to what we do with the broader settings of social development - all of that contributes to reducing inequality."
Collins: Housing demand might be suppressed by people flocking to Australia
Turning to National Leader Judith Collins, she questioned whether house price growth would be as major as forecast by Treasury given her prediction the supposedly dire state of the New Zealand economy would see an exodus of people to Australia.
Collins reiterated repealing and replacing the Resource Management Act was key to ramping up building.
Asked whether there was such a thing, in her eyes, as house prices being too high, Collins said: "If you can't afford a house, it's too expensive."
Goldsmith: 30% debt target derived from former Treasury secretary
Asked whether Collins believed it was time to have debate around the way monetary policy is conducted and what its impacts are, she said: "Right at the moment, it's really time for us to grow the economy."
On the issue of whether the RBNZ should buy New Zealand Government Bonds direct from Treasury, rather than working through the secondary market at which point banks and fund managers clip a ticket, National's Finance Spokesperson Paul Goldsmith said: "It is a significant step to buy the bonds directly from Government and there is a real fear that would lead to even more borrowing.
"The real question is the quality of the spending and ultimately that needs to be paid back…
"[Quantitative easing] is a short-term measure that's happening all around the world. Nobody knows where it's going to lead and what the outcome will be. And so, the best thing we can do is make sure that we spend any money that we spend wisely."
While the RBNZ's QE programme is supporting the large amount of borrowing the Government is doing, Goldsmith didn't recognise the purpose of the programme is to stimulate growth to boost inflation and employment.
Goldsmith said National was campaigning on reducing net core Crown debt to 30% of Gross Domestic Product (GDP) within 10 years or so, because the former Secretary to the Treasury, Gabriel Makhlouf, said 30% was a prudent number.
Goldsmith conceded there was "nothing magic" about 30%, but said the point was that you need to have a path to getting debt back under control.
He noted Treasury is projecting debt to be higher than it expected at the May Budget, surpassing 55% of GDP.
Robertson cautious - forecast bond issuance cut by $10 billion
On the issue of debt, Robertson reiterated it was about getting the "balance" right when it comes to how much to borrow and spend.
He stressed his caution around spending the $14 billion of unallocated Covid-19 funding he put aside for a rainier day.
"We are not committing to spending it unless we absolutely have to, with a recognition that with a virus as unpredictable as it is now, we want to leave that on the table for as long as we can," Robertson said.
Treasury forecast the size of the Government's Covid-19 response shrinking from $62 billion to $58 billion, as the uptake of the likes of the wage subsidy, Small Business Cashflow Loan Scheme and Business Finance Guarantee Scheme have been slightly lower than expected.
Furthermore, the New Zealand Debt Management Office (which is part of Treasury) on Wednesday cut its forecast bond issuance for the year to June 2021 by $10 billion to $50 billion.
Robertson unwilling to risk shaking confidence by taking less conventional approach towards QE
In terms of the way the RBNZ conducts its QE programme, Robertson said he was willing to pay a higher initial price for thr bond buying time be done on the secondary market, as opposed to the primary market, to maintain confidence in the bond market.
"New Zealand is well regarded overseas for our stability and we want to make sure we maintain that. There is an element of this being about the overall functioning of the market," he said.
Asked what evidence he had of the market not functioning smoothly, should the RBNZ maintain a presence in the secondary market, but do most of its bond purchases direct, Robertson accepted it was difficult to consider the counterfactual, but said: "The advice I have, and the view that I've taken, is that stabilising the overall bond market, New Zealand playing its role in keeping liquidity available, people seeing New Zealand as a stable force in that, is important and significant in all of the short, medium and long term.
"I absolutely accept that there are other pathways that could be taken, but from our perspective, this is the one that best serves New Zealand today and in the future."
NOTE: This story was written the day before National announced income tax and debt target changes.