Gareth Vaughan looks at the strenuous efforts authorities are making to keep the debt/credit taps on, concluding the banking industry 'normal' may not be the same the other side of COVID-19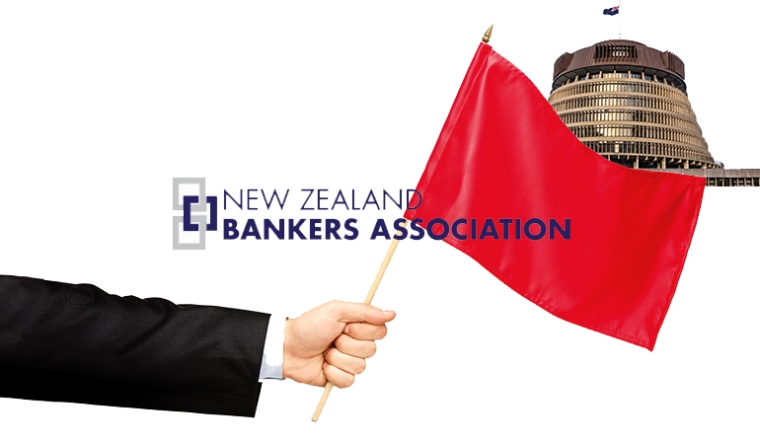 By Gareth Vaughan
Officially New Zealand only has one state owned bank, Kiwibank. But, with COVID-19 smashing the economy, the entire banking sector has now effectively become an extension of a socialist state.
It was just a few short months ago, with the Reserve Bank proposing to increase their regulatory capital requirements, that New Zealand banks were telling us how strong they were. The Reserve Bank's risk appetite was too conservative, their lobby group the New Zealand Bankers' Association said.
Boy how things have changed and how quickly too. Over recent days banks have received so many different forms of government and central bank assistance, in order to keep their credit/debt conveyor belt flowing, that it's hard to keep track of them all. Of course this corporate welfare comes as authorities try to cushion the impact of a recession stemming from a pandemic whose human and economic costs are unknown but will be significant, and potentially enormous.
The latest government assistance is Finance Minister Grant Robertson's announcement of a $6.25 billion Business Finance Guarantee Scheme for small and medium-sized businesses (SMEs), alongside a six month principal and interest payment holiday for stressed mortgage holders and SME customers whose incomes are hit by the economic fallout from COVID-19.
The specific details of the mortgage holiday are being finalised, with banks to make these public over coming days, Robertson says, adding; "The Reserve Bank has agreed to help banks put this in place with appropriate capital rules."
 The Business Finance Guarantee Scheme has a limit of $500,000 per loan and will apply to firms with a turnover of between $250,000 and $80 million per annum, with loans for up to three years to be provided "at competitive, transparent rates." The Government/taxpayer takes on 80% of the credit risk, and banks 20%. Other government moves to counter the downturn include a wage subsidy scheme that's expected to cost $9.3 billion and be available for 12 weeks, while rent increases are being banned.
Last week the Reserve Bank launched a term auction facility designed to alleviate pressures in bank funding markets. It gives banks the ability to access term funding, with collateralised loans, for terms up to 12 months. To help keep the lights on in the financial markets the Reserve Bank has also unveiled a $30 billion quantitative easing programme, and cut the Official Cash Rate by 75 basis points to just 0.25%.
It has also deferred those bank capital increases, which were to be phased in over seven years from July, for a year. And topping it off, buried in the Robertson/Reserve Bank's Tuesday press release was news banks' core funding ratios are being reduced to 50% from 75% - for an unspecified time - to help banks "make credit available."
The core funding ratio was introduced on April 1, 2010 to reduce New Zealand banks' reliance on short-term offshore "hot money" funding after credit markets froze during the Global Financial Crisis. It requires banks to meet a minimum share of their funding from retail deposits, long-term wholesale funding and/or capital. Initially set at 65% the minimum was increased to 70% in July 2011 and 75% from the start of 2013. 
Some banks had to work to get above the initial 65% level. The core funding ratio also won the Reserve Bank international praise, with a similar net stable funding ratio subsequently included in global Basel banking standards. Winding this back so far won't have been a decision the Reserve Bank took lightly.
The banks' core funding ratios certainly started this crisis from a strong position. As of December 31 the big five banks' ranged from Westpac's 83.1% to Kiwibank 90.1% with smaller banks even higher.
With many countries now in a fight to minimise the human cost of COVID-19, the economic and financial side effects are going to be massive. New Zealanders head into isolation in their own homes for a minimum of four weeks from tonight with much of the economy also shutting down. Against this backdrop the authorities are doing everything and anything to try and keep the wheels of the economy greased. Hence they're desperate to assist our debt peddlers to keep peddling debt during these traumatic times.
There will be a spike in banks' bad debts as recession bites and unemployment rises, potentially higher than the 10.7% modern era peak from 1992. By helping borrowers the government and Reserve Bank efforts to cushion the downturn will reduce the negative impact on the banks. In this environment close scrutiny will be on bank dividends and profits with all key players in the NZ Inc waka needing to paddle in the same direction.
Interestingly there has been no specific intervention on behalf of savers so far. The Government last year committed to establishing a deposit insurance scheme that will insure deposits up to a limit of $50,000 per individual, per institution. This is taking place via the ongoing review of the Reserve Bank Act. Robertson last week said there are no plans to hurry this along.
Announcing the move to lock-down on Monday Prime Minister Jacinda Ardern spoke in brutal terms.
"New medical modelling considered by the Cabinet today suggests that without the measures I have just announced up to tens of thousands of New Zealanders could die from COVID-19...The worst case scenario is simply intolerable. It would represent the greatest loss of New Zealanders' lives in our country's history. I will not take that chance," Ardern said.
With the stakes this high we are entering territory few New Zealanders alive today have experienced before. We are effectively on a war footing. 
What the banking industry will look like once COVID-19 is on the run, whenever that may be, is anyone's guess. My guess is what has been regarded as normal in recent years probably won't be normal by then. Perhaps the taxpayer will even be a shareholder in the major banks.
Personal, business and government debt levels are set to rise. In some cases sharply from already high bases. We can expect more action from authorities, perhaps including a loosening of bankruptcy rules. And maybe down the line we could be seriously considering some form of debt jubilee, or debt cancellation. But that's a subject for another article.
Household debt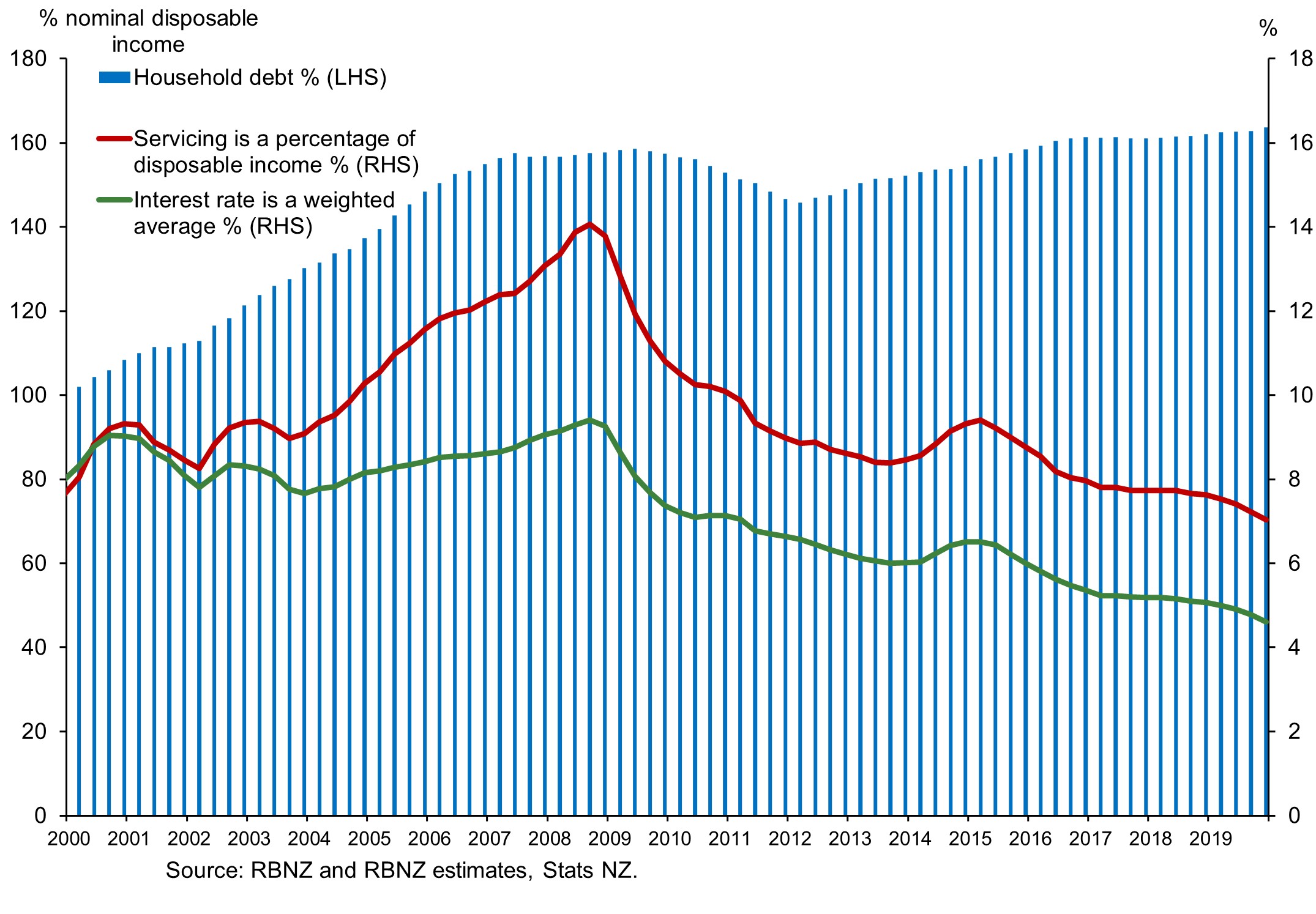 *This article was first published in our email for paying subscribers. See here for more details and how to subscribe.