The Reserve Bank's decision to bring forward implementation of the new round of LVR restrictions gives it the edge over the Government in the game of chess that the two parties are playing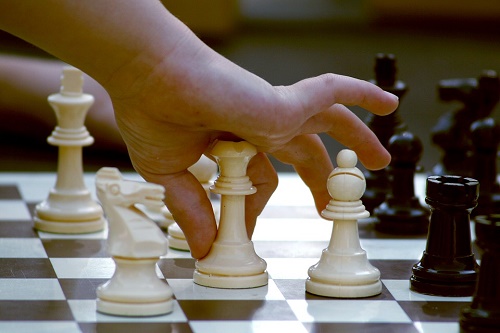 By David Hargreaves
Battles of will between a government and one of its own crown agencies are always highly entertaining.
That's because they are always, well, so damn polite.
It's not in either party's interest to go at the other in classic bar room style - "yeah, mate, let's see you outside if you think you're man enough".
No, these conflicts are conducted with raised eyebrows and oblique public comments. A game of chess. A tactical battle of wills.
By bringing forward the start date of round 3 of LVRs the Reserve Bank has positioned one of its knights in direct threat to the Government's King (or Key, if you like). This has neatly counter-acted the Key-led goading attack, which had suggested that the RBNZ might want to "get on with it".
Regrettably, the statement from RBNZ Governor Graeme Wheeler did not end this way, but could easily have closed with "your move now John - you get on with it". 
The strident cries of  'political interference' from the Property Institute were wide of the mark. This was the RBNZ playing politics, yes, but there's nothing new in crown agencies playing politics. You live with lions you hunt with lions.
I think any suggestion that yesterday's move was some sort of rushed, panicky measure, out to appease the Government, is just plain wrong. Pressure the Government yes, appease, no.
The recent speech by RBNZ Deputy Governor Grant Spencer, which gave general indications of what the central bank was considering, was in my view completely misinterpreted in the marketplace.
This was nothing more or less than a central banker being a cautious, prudent, raised eyebrow, central banker. The speech exactly followed the template the RBNZ employed in 2013 when it was seeking to introduce round 1 of LVRs. Back then there was the heavily nuanced, hinting, speech from Spencer, followed not too many weeks after by the nuts and bolts from Wheeler. 
You can argue whether such an approach is too subtle. Presumably in this instance it was too subtle for its wider audience. People who had forgotten what the RBNZ did and how it did it in 2013 appeared to expect Spencer to come out all Stalone-esque, with shirt off, magazines of bullets draped over him and blazing away with a semi-automatic. Well, I've seen Spencer in press conferences going back more years than I care to mention and it ain't really his style.
For what it's worth I reckon the RBNZ was planning to introduce 'LVR3 - the Revisiting' on October 1, so, that the measures were in place before it next has to present a Financial Stability Report in November. At the last FSR in May the RBNZ was left exposed and bulletless, grappling with the recent realisation that 'LVR2 - Let's get Auckland Investors' had fallen on its backside and the housing market had cheerfully thumbed its nose and carried on. The RBNZ wasn't going to go into the next one without ammo.
So, I think the new LVR moves have probably been brought forward by all of a month. And yes, it's political. The Prime Minister having run away and hidden behind that naughty uncooperative central bank is going to need to come out and do something himself now - and the RBNZ will be counting on that.
Because everybody is right. These LVRs are not in themselves a solution. They might at best cause the Auckland juggernaut to pause for six months. Debt to income ratios, presumably, to come in just as quickly as the RBNZ can 'prudently' do it in the New Year, might provide more of a pause. And it's interesting that for the first time in a while the RBNZ has in its latest consultation document re-reminded us of that which we had forgotten. That these LVRs are supposed to be temporary. It might be that the RBNZ thinks it can lift the LVRs onces DTIs are go. But that's conjecture at this point.
The point is that whether its LVRs and DTIs or just DTIs, they are only likely to work as part of a parcel of measures. And the Government needs to do the rest. And I think the Government is gradually realising that. While the 'do nothing' option has been attractive versus the alternative of electorally unpopular moves against housing investment, the further the housing market goes, the higher the possibility of something nasty happening on the credit front. And that would not be a great look for any incumbent Government. 
Our current house price to income ratios and levels of household indebtedness relative to incomes are only looking okay in the current low interest rate environment. But don't doubt it. They are a risk.
So, it is up to the Government to come up with a plan that tackles both the supply and demand side of the housing market equation. If measures to cool the housing market continue to be done in an unbalanced way (basically a central bank on its own with no Government support) then the risk is distortions and an unbalanced outcome. And let's face it if you try to renovate a house with the wrong tools you might bring the whole thing down.
That's the risk and it's a risk that falls on this Government and nowhere else.