Personal Finance
/
news
RBNZ research and modelling shows that actual housing allocations in New Zealand household balance sheets could have been even higher than already-large present levels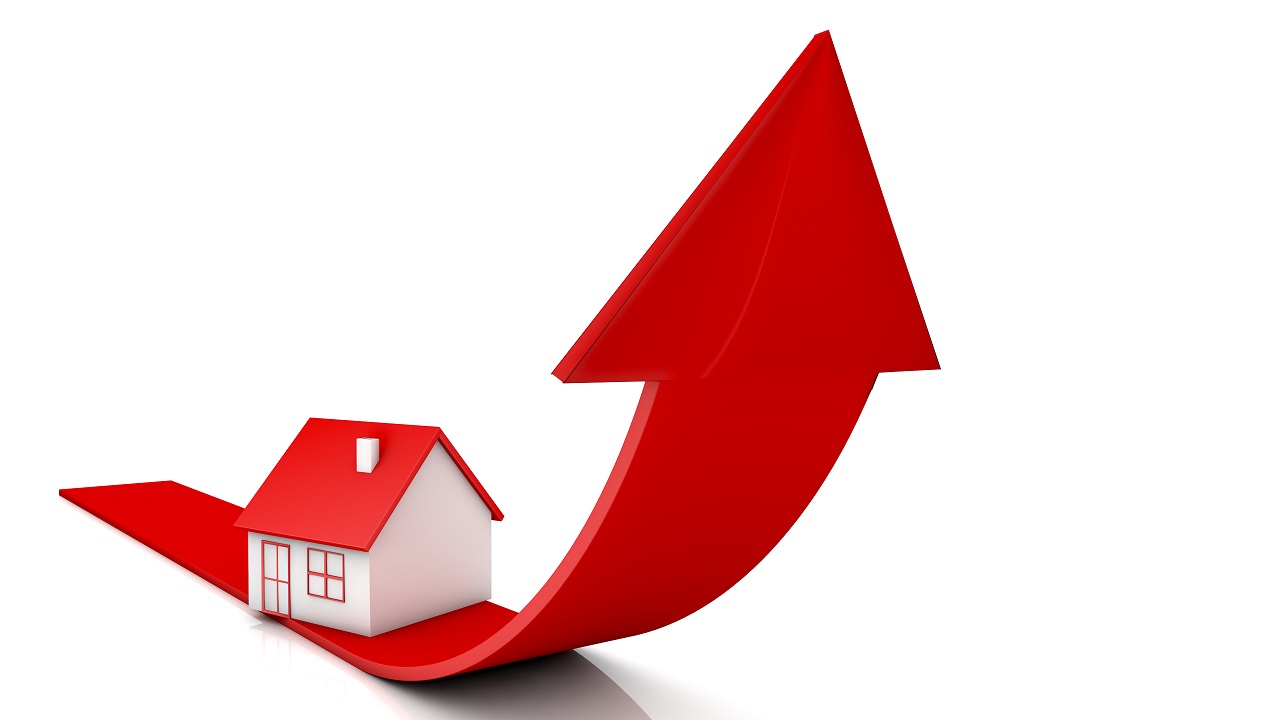 Kiwis invest a lot in housing. We know that. But the Reserve Bank has found that based on returns available we could have been justified in investing EVEN MORE into housing.
New Reserve Bank research and modelling shows that in past decades NZ investors could - from a strict risk-return portfolio perspective - have actually allocated ALL of their portfolio investments into housing.
The research/modelling found total returns on housing as an investment averaged 10.9% over the period from 2000-2020, which was higher than any other asset returns in their sample. 
The paper, titled: Housing as an Investment Asset in New Zealand, authored by RBNZ's Patrick Aguiar Carvalho, Ben Baker and Ashley Farquharson, is part of research undertaken by the Reserve Bank (RBNZ) to better understand the sustainability of house prices in New Zealand. RBNZ chief economist Paul Conway gave a speech last Thursday that summarised some of the research.
Both that speech and the analytic note outlining housing as an investment asset point to the fact that as of March, 2021, some 57% of New Zealand household assets were tied up in housing. 
"The domestic housing market plays a pivotal role in the New Zealand investment landscape. The aggregate value of land and housing in New Zealand, including rental and owner-occupied properties, is currently around $1.5 trillion. That is close to five times the size of New Zealand's annual gross domestic product (Figure 1) and over seven times the value of all companies listed in the New Zealand stock exchange," the authors say.
"From a balance sheet perspective, housing constitutes over half of all domestic household assets. Likewise, financial institutions too have a significant exposure to housing, with close to two-thirds of all domestic bank lending in the form of mortgage debt. As kaitiaki (guardian) of the financial system, the Reserve Bank of New Zealand – Te Pūtea Matua therefore has a close interest in how the domestic housing market evolves, being an important driver of both price and financial stability."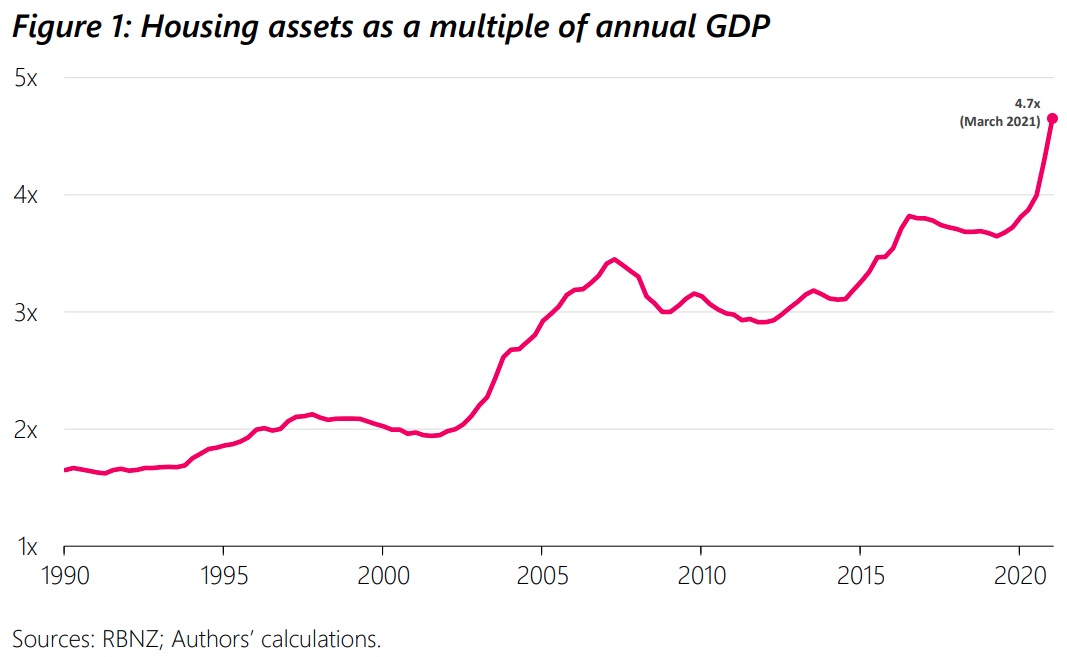 The authors say a key feature determining housing investments regards their favourable tax treatment in the New Zealand context. 
"Work by the Treasury and the Inland Revenue Department shows that for a representative investor, housing marginal effective tax rates can be close to five times lower than other investment strategies such as foreign shares and domestic superannuation funds, they say.
"Importantly, once these marginal effective tax rates are taken into account, our model results suggest that, from a strict risk-return portfolio perspective, investors could have allocated all of their portfolio investments into housing in past decades.
"Therefore, one could argue that actual housing allocations in New Zealand household balance sheets could have been even higher than already-large present levels."
The authors say, however, there are some features of housing investment not captured in their modelling exercise that could explain why this has not occurred: the prevalence of credit constraints (which may have reduced the number of aspirant borrowers who could obtain mortgage approvals), the discrete nature of home ownership (i.e. the nature of the housing asset being lumpy, whereas stock market shares can be bought in smaller value fractions), and other potential motivations for portfolio investment other than a risk-return framework (e.g. rental-property investors vs. homeowners).
"...All of which would be a prominent addition to the current modelling work in future research streams."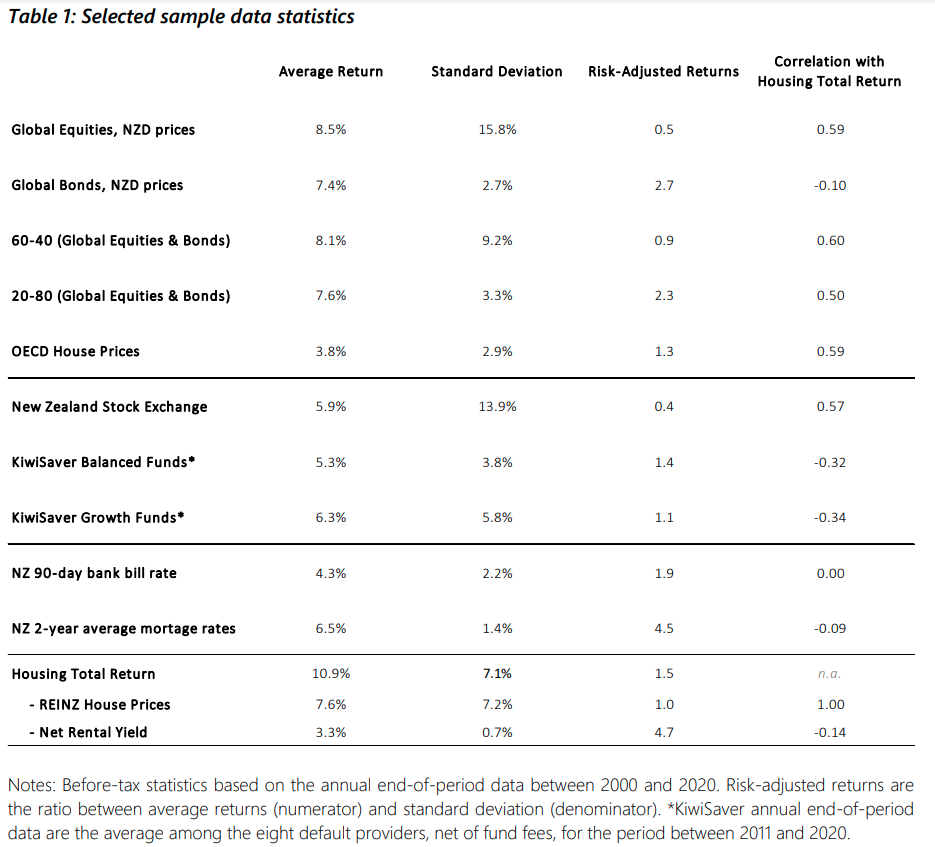 (Sources of information in the table include: MSCI ACWI Index, NZD prices (Global Equities, including net dividends); Hedged Bloomberg Barclays GlobalAggregate Bond Total Return Index, NZD prices (Global Bonds); Organisation for Economic Co-operation and Development (OECD); Financial Markets Authority New Zealand (KiwiSaver data); Bloomberg, S&P/NZX All Index (New Zealand Stock Exchange—NZSE); Real Estate Institute of New Zealand (REINZ House Prices); Reserve Bank of New Zealand (net rental yield estimates); Authors' calculations.)
Carvalho, Baker and Farquharson say the results of their modelling do not validate house price growth path in the past two decades as sustainable or rational, "as the modelling exercise purely takes past asset price changes as given in order to estimate portfolio allocation shares".
"Past performance is no guarantee of future results. There is no surety that future housing returns will keep up with past rates. If anything, there are plenty of emerging factors pointing to the opposite direction. That includes tax and regulatory changes, approaching limits to the decades long decline in global interest rates, as well as already stretched housing sustainability measures.
"As such, retail investors in New Zealand should beware of placing their bets on seemingly 'forever rising' house prices. Housing may be a valid asset class to invest in, but it is not without risks and needs to be considered as part of a broader, diversified and well-informed wealth portfolio strategy."
The authors say the large role of residential property investment has come at the expense of diversification in household's balance sheets.
"For many New Zealand families, housing is the largest — if not the sole — investment asset. That intensifies the exposure to both individual property and housing market risks of unfavourable events eroding the value of lifetime savings.
"In addition, such a prominence of New Zealand's housing market comes with unintended risks and costs. That includes the wider social costs of the potential financial stability risk from having such a very large investment egg in our national wealth kete. Housing downturns can have a severe and prolonged impact not just on individual portfolios, but also feature wider social costs in terms of aggregate financial stability risks, particularly the impact of housing demand on the likelihood and severity of macroeconomic boom-bust cycles.
"For the seasoned retail investor, international and domestic experiences provide a cautionary tale. Figure 10 depicts how many years it took for housing markets in selected economies to recover — or are still falling short of previous house price peaks. Of note, the New Zealand house price levels took twenty years to recover following a downturn in early 1970s."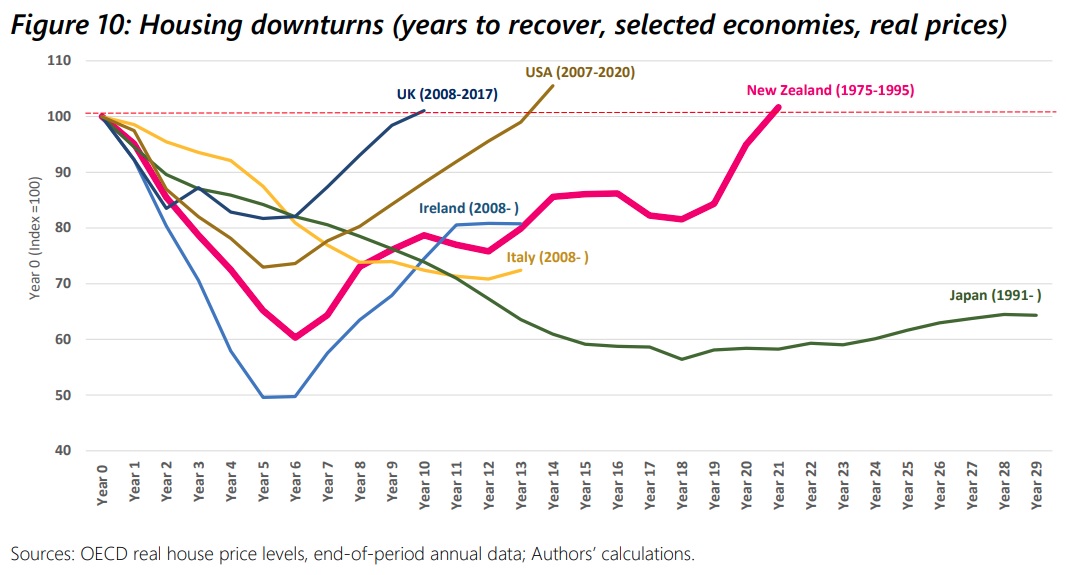 Going forward, therefore, there are reasons the portfolio share in housing should decrease, the authors say.
Favourable tax arrangements, strong migration intakes, declining neutral interest rates, and binding zoning restrictions have all been documented as forces behind the observed rise in house prices over an extended period.
"However, there are many caveats leaning against these factors going forward."
First, tax arrangements and regulatory constraints can, and do, change. The elimination of interest deductibility and extension of the bright-line property rules may dampen future returns for housing investors. On the regulatory front, for instance, new intensification rules will enable greater supply of housing in urban areas, they say.
Second, several indicators already point to unsustainable house price levels in New Zealand, potentially leading to years of subpar price growth or to a sudden correction in New Zealand's housing market. This includes the approaching limits to a decades-long trend of declining global interest rates, which has supported a high degree of international synchronisation in house price growth.
Third, the retail investor must accept the fact that a house price index, although an important proxy measure, does not capture idiosyncratic risks inherent to buying a particular house.
"Put simply, in the face of random events negatively impacting a low percentage of houses, national house price indices do not necessarily reflect the risks that individual investors face once they realise their housing assets are depreciated by, say, bad tenants, unexpected leaks, earthquakes, or floods — particularly as climate change risks increasingly exposes parts of the New Zealand housing market in coming decades."