Reserve Bank set to increase the Official Cash Rate on Wednesday in the last scheduled review of its key monetary policy tool for three months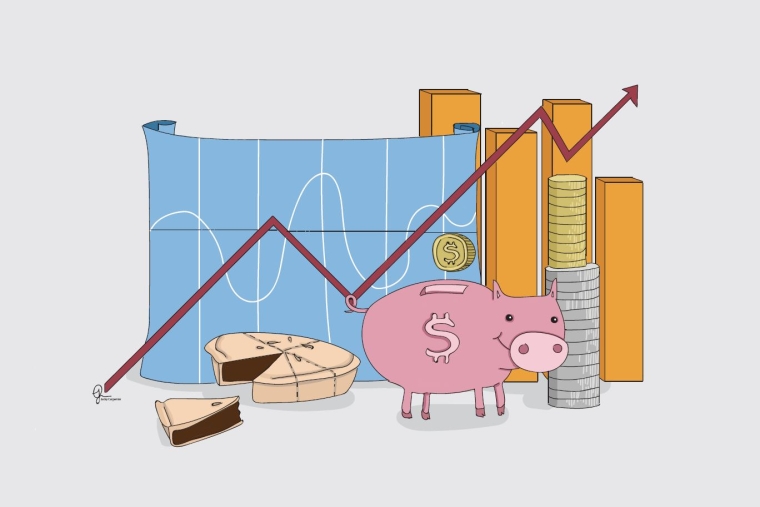 Barring something truly dramatic happening between now and Wednesday, it's a foregone conclusion that the Reserve Bank (RBNZ) will increase the Official Cash Rate (OCR). But how much will it hike by, and is there actually a case that it shouldn't hike at all?
With rising inflation and a strong labour market, the RBNZ is widely expected to increase the OCR at its review on Wednesday, November 24. This follows the 25 basis points October 6 hike to 0.50%, the first time the OCR has been increased in seven years.
A key factor to consider ahead of Wednesday's Monetary Policy Statement and OCR review is it's the last time the RBNZ is scheduled to review the OCR for three months. The next MPS and OCR review is scheduled for February 23. The RBNZ does have scope for an unscheduled OCR review before then, but this is an unusual step used just twice previously. Firstly after the September 11, 2001 attacks in New York, and in March 2020 in the early days of the Covid-19 pandemic.
In terms of what the RBNZ's expected to announce on Wednesday, here's what ANZ NZ's economists had to say on Friday morning, which is similar to what most bank economists are saying.
"The RBNZ meets next week for the final interest rate decision of the year. We are expecting that they will deliver a second interest rate hike of 25 basis points, bringing the OCR to 0.75%. This will be their first MPS since the [Covid-19] Delta outbreak started, but their comments in the October review suggested they didn't envisage any long-term impacts on the economic outlook. And given that unemployment came out at a joint-record low for the third quarter, the economy probably has an even better starting point than they thought back then," ANZ says.
"Given the large upside surprises to inflation and employment since the October review, it's no surprise that the main question for [financial] markets has been how much the RBNZ will hike, rather than will they/won't they. Market pricing implies 60/40 odds of a 25 basis points hike versus 50 basis points. One can certainly make a case for a 50 basis points hike, but for us, the argument for 25 basis points is stronger. The inflation risks are still to the upside, but growth and employment risks are much less one-sided. Monetary conditions have already tightened quite a bit, with mortgage rates rising at the fastest rate in 15 years. A 25 basis points hike will help to lock in that tightening, without putting undue stress on the economy."
"The fourth quarter RBNZ Survey of Expectations (released Thursday) also provides the Monetary Policy Committee with some leeway. True, one and two-year-ahead [inflation] measures have spiked sharply – but that was to be expected given that inflation is running at 4.9% and we expect it to reach just under 6% in the first quarter. Longer-term measures are still at or close to the 2% target midpoint, suggesting people still believe that over the medium term, the RBNZ will be successful at containing inflation. The big question is how high the OCR will need to go to achieve that outcome. We're forecasting a 2% OCR by end-2022, but there's a lot of water to flow under the bridge before then," ANZ's economists say.
'The least regrets approach is to retain policy stimulus'
Others do, however, hold divergent views.
Sense Partners economist Shamubeel Eaqub says a small increase in interest rates is probably not that big a deal. Eaqub notes retail borrowing costs have already risen off the back of rising wholesale borrowing costs, which matters most for recent highly geared borrowers. 
"I am not convinced the recent inflation surge is domestic, related to unsustainable wage cost increases and some immediate risk of a wage-price spiral," Eaqub says. 
"The RBNZ was utterly wrong to expect a return to [Covid-19 Alert] Level 1. It shows they have limited understanding of Delta and how NZ's Covid response is likely to change. Rising infections, deaths and yo-yo restrictions like we are seeing in Europe is a risk to the economy. The economic disruptions the rest of the world experienced last year is what's coming for us in 2022." 
"The least regrets approach is to retain policy stimulus, rather than hiking now to cave to their obsession with too high inflation, but never with too low inflation, like the whole of the last decade. But I expect them to hike, because they said they would. They will most likely cut again in 2022 when Delta disruptions give them an opening to cut and still save face, like the Canterbury Earthquakes did  after their premature hikes after the Global Financial Crisis a decade ago," Eaqub says.
'Inflation is largely an overseas phenomenon'
Craig Renney, Council of Trade Unions Economist and Director of Policy, says he'd like the Reserve Bank's Monetary Policy Committee to be very cautious and considerate in its use of the OCR lever right now.
"Inflation is largely an overseas phenomenon - oil, energy, commodities - and is not being driven by domestic factors. It is also being driven by supply-chain bottlenecks and accelerated to some extent by the level of global stimulus cash that has been provided by governments," says Renney.
"Given that Europe is seemingly headed into a new wave of COVID-19, and that global growth remains uncertain, we should be adopting a path of least regrets for the OCR. This is especially the case for New Zealand given our own uncertain COVID future. I would therefore recommend at most a 25 basis points rise, and would consider not increasing it all. I am unsure how useful a tool it is tackling the form of inflation that we have right now."
However, Renney says he expects the Monetary Policy Committee will be weighing up exactly how high to lift the OCR after recent economic indicators.
"With inflation at 4.9% they will feel as if they must respond, and with unemployment at 3.4% they will consider the other leg of their mandate met. I think that they will also put a significant amount of consideration on the latest household inflation expectations, with inflation expected to be 4% one year from now. They will consider it necessary to reiterate their commitment to their inflation target, and to send a strong signal that the Bank will do what is necessary to achieve this goal. Consequently, they will lift the OCR by 50 basis points to 1%."
"Having done this, they may point to the Auckland lockdowns and the fact that wages are not yet responding to inflationary pressures as a reason to then take a pause from future OCR rises in the short-term unless evidence further compels them. This is particularly the case as the major banks have already priced in OCR changes into their mortgage rates," Renney says.
'Inflation pressures are rampant'
ASB's economists suggest the RBNZ is playing catch-up with inflation pressures "rampant."  They say a 50 basis points OCR hike is certainly possible, but are predicting a 25 basis points increase.
"The Bank needs the market to keep doing its work for it. So we expect a hawkish statement and OCR projections to be lifted to show a terminal OCR on the tighter side of 'neutral'," ASB says.
"Third quarter Consumers Price Index inflation, at 4.9% year-on-year, printed well north of the RBNZ's 4.1% forecast. More importantly, we expect inflation to hold up at uncomfortably-high levels for much longer than the RBNZ's prior forecasts implied. We forecast headline inflation to hit 5.9% by the end of the year, and stay above the RBNZ's 1% to 3% target range until at least early 2023."
"The RBNZ will be wary of the risk that elevated headline inflation becomes embedded in the public's inflation expectations. We're already seeing signs of this in business surveys, and the RBNZ survey of two-year ahead inflation expectations showed a huge lift, to 2.97% from 2.27% last quarter. That's the highest in thirteen years," ASB's economists say.
They suggest unemployment will remain below 4% for the foreseeable future after the recent record-equalling low unemployment rate of 3.4%, meaning "we are well through" the RBNZ's moving feast "maximum sustainable employment" target.
"House price inflation, which is now in the RBNZ's Remit but not as a formal target, refuses to die down, holding up at 30% year-on-year for six straight months now," ASB says.
"The case to return the cash rate to 'neutral,' thought to be around 2%, over time seems clear. It's really about tactics in how to get there, bearing in mind there are still plenty of uncertainties that could upset the applecart next year."
'A 50 basis points hike risks further unsettling business and consumer confidence'
ASB's economists also consider whether the RBNZ should "up the run-rate" with a 50 basis points increase on November 24.
"Most obviously, the market is already doing the RBNZ's tightening work for it. Since the October meeting, wholesale interest rates have surged another 50 to100 basis points. In turn, mortgage rates have also roared higher. The fourth quarter lift in mortgage rates, of around 100 basis points so far, will be one of the largest quarterly increases since the OCR was introduced in 1999."
"Yes, mortgage rates are still at low levels historically. But that sort of rate of change – if sustained – will exert a powerful slowing effect on the housing market and retail spending next year. The RBNZ will be wary of heaping more pressure on given the explosion in household debt over the past 18 months. In addition, the Bank is acutely aware of the struggle in some parts of the economy thanks to COVID restrictions. A 50 basis points hike risks further unsettling business and consumer confidence," ASB says.
Until its scheduled February OCR review ASB's economists suggest the RBNZ will want interest rate markets to keep doing the mahi/work for it.
"For this reason, we expect a hawkish statement and an explicit signalling that rate hikes will continue, at pace. The tightening bias will be retained and strengthened," says ASB.
"Key in this regard will be the Bank's OCR forecasts. Recall the August MPS projections had 125 basis points to 150 basis points of hikes in the OCR track over the next two years, with an end point of around 2.1% in 2024. We suspect the updated track will be see these hikes front-loaded, with the end point lifted to show an OCR peak on the tighter side of 'neutral'. Perhaps something around 2.5%."
Westpac sees OCR rising to 3% in this cycle
Westpac NZ Acting Chief Economist Michael Gordon suggests the RBNZ will need to lift the OCR to a peak of 3% over the next couple of years. 
"In short, we see excess demand as the greater challenge for New Zealand's inflation outlook, one that's likely to live on beyond the recent cost shocks that are emanating from overseas. The data over recent weeks has only reinforced that view. We've learnt that the economy was running wildly ahead of what the RBNZ expected before the lockdown, with a 2.8% jump in Gross Domestic Product in the June quarter. Demand for workers has continued to run hot, with employment up more than 4% on a year ago and the unemployment rate dropping to 3.4% in the September quarter," says Gordon.
"While the latest Covid restrictions have substantially dampened activity, indicators such as card spending, building consents and job advertisements suggest that activity is well-placed to rebound as restrictions are eased. There's also been a sharp lift in inflation, which rose to 4.9% in the year to September. That was much higher than the RBNZ had expected in August, and it's likely to go even higher in the near-term."
Meanwhile, Gordon expects a chunky increase in the RBNZ's projected OCR path ahead compared to its August review.
"The previous track implied a steady series of OCR hikes, reaching a little above 2% by the end of the three-year forecast horizon. That's slightly higher than where the RBNZ estimates the 'neutral' level of the OCR to be. The reason given was that the OCR will need to be a little higher to offset the easing effect of measures such as large-scale bond purchases and the Funding for Lending Programme, which won't have been fully unwound three years from now. We estimate that developments in the economy since then are worth at least an additional 50 basis points on the RBNZ's profile."
"That would see the projected OCR reach a peak in the high 2's, in line with what's baked into current market interest rates and close to our forecast of a 3% peak. It's possible that the RBNZ could extend its projection beyond three years this time, to show a falling OCR in later years, as we've done with our own forecast. This would convey the idea that the higher OCR track is a temporary peak in the cycle, not a reassessment of where the long-run neutral level lies. It would also capture the idea that the OCR won't need to provide as much offset in later years, as the other policy measures run their natural course," says Gordon.
"With so much work ahead for monetary policy over the next couple of years, the question of tactics will naturally arise. We think that a 25 basis point hike is the more likely outcome at next Wednesday's policy review. But we also stress – and have done previously – that there is a meaningful risk that the Monetary Policy Committee decides to hike by 50 basis points in one go."
Gordon says that whichever way the RBNZ goes, "there's going to be a sizeable move in short-term interest rates on the day."
*This article was first published in our email for paying subscribers. See here for more details and how to subscribe.