The Superannuation issue is just one example of a Government continually pushing problems out into the future for others to deal with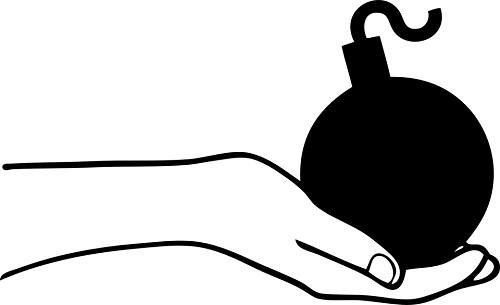 By David Hargreaves
We can only speculate for now how much long term damage is being done to this country by the Government's cynical stance of pushing the 'big issues' into the future.
If an issue looks like a 'bomb' that could have bad electoral consequences, then it's dispensed with for now in favour of short-termist strategies, such as the Government's championing of large scale immigration to help pump the economy.
The intransigeance of the now departed PM John Key on the age of superannuation entitlement is a cross this country will have to bear.
Bill English has shown a move away from the Key stance, but only really symbolically.
By my count we will have another seven elections before the changes English announced hurriedly and inelegantly this week after his weekend slip of the tongue start to take effect.
Everybody seems to be forgetting how quickly the transition was made - under a National Government no less - in the entitlement age from 60 to 65, as this background paper from Treasury explains:
"The age of eligibility for NZS was to be raised progressively from 60 to 65 over the relatively brief timeframe of nine years, 1992 to 2001. The schedule involved delaying payment to age 61 for those born in the period 1 April 1932 to 30 June 1932 and then raising the eligibility age by an additional 3 months for each successive 3-month birth cohort. This formula resulted in the age of eligibility reaching 65 for people born after 31 March 1936 and the transition was completed on 1 April 2001."
So, it certainly could be done if there was a will and if we could achieve anything like a political consensus.
And while English might be trying to signal a move away from Key's dogmatic position on Super, let's not forget that English's paw prints are all over the extremely short-sighted decision to stop payments to the NZ Super Fund.
According to the Fund's own estimates, as of June last year it was around $20.5 billion worse off than it would have been if the Government had not stopped contributions back in 2009. I honestly think restarting those contributions right now would be a more positive step than some vague and woolly intention to do something in seven elections time, by which point I would lay large wagers the policy WILL have changed.
But lest the movements by English on Super this week are designed to show that National is now really tackling the future issues - when it hasn't been before - let us not lose sight of the fact that this Government is still willfully delaying decisions that need to be made. The intertwined issues of immigration, the housing market and the debt levels of Kiwis come readily to mind as areas in which this Government is either failing or just pushing the problem into the future.
New Finance Minister Steven Joyce has only recently pulled the extremely cute trick of kicking into touch till after the election the Reserve Bank's plans for debt-to-income ratios to be included in its macro-prudential toolkit. And that's even after the RBNZ did something it shouldn't have to do, which is promise it wouldn't use them right now.
The IMF had plenty to say about New Zealand's household debt and housing market this week.
Specifically on DTIs it said:
"To strengthen household balance sheet resilience and reduce the probability of household defaults under downside shocks, the macro-prudential toolkit should be extended to include a DTI or (stressed) DSTI instrument, in line with recommendations by the FSAP. These directly target the most acute household vulnerability. Other macro-prudential instruments available to the RBNZ are approaching their practical limit (LVRs) or address the problem indirectly, with limited effectiveness and higher risks of unintended consequences. The new instrument should be activated in the event that effects of the most recent macro-prudential package on credit growth prove to be temporary."
For me the most disconcerting part of that passage is the suggestion that other macro-pru instruments available to the RBNZ are "approaching their practical limit (LVRs) or address the problem indirectly, with limited effectiveness and higher risks of unintended consequences". In other words the RBNZ is running out of water if the housing market catches fire again.
With an election coming and the banks tightening lending criteria of their own accord, the Government might get lucky for now. But the concern I think is next year, which will dawn with no DTIs in sight and a housing market potentially ready to march off again - particularly if the new housing construction momentum in Auckland continues to stall and the Government continues to allow record numbers of immigrants in - mostly to Auckland.
All this is going on while Kiwi households are getting into record levels of hock. I was very interested in a section of a report credit rating agency Moody's released this week, which was specifically related to covered bonds, but also did some number crunching on housing affordability, notably on what happens when interest rates go up - as they are now starting to do.
Moody's looked at the impact on housing affordability of:
a 0.25-percentage-point mortgage interest rate increase,
a 0.25- percentage-point mortgage interest rate decrease and
mortgage interest rates rising to the 10-year average of 6.5%.
The effective mortgage rate at December 31, 2016 of  4.86% - was used as the base for this analysis.
Moody's says for every 0.25-percentage-point change in mortgage interest rates, the percentage of household income needed to meet mortgage repayments changes by 0.8 percentage point on average across New Zealand. In Auckland, a 0.25-percentage-point change in mortgage interest rates results in a 1.2-percentage point change in the percentage of household income needed to meet mortgage repayments. If mortgage interest rates were to rise to the 10-year average of 6.5%, the percentage of household income needed to meet mortgage repayments would increase by 5.5 percentage points on average across New Zealand and 8.2 percentage points in Auckland.
The bold in that last bit is mine. We are taking a risk with debt levels going the way they are - particularly given that the Auckland housing market supply problems are not close to being addressed, which could see a return of rising house prices and may also result in increase inflationary pressures (pressures which are already mounting in the building industry). Increased inflation would see increased interest rates of course.
So, while the economy is looking good at the moment, there are plenty of things for New Zealand to be concerned about looking to the future. Not least of these concerns is the need to get our Governments more worried about the long term viability of the country than our three-year electoral cycle.