Fonterra is now predicting a milk price of $4.60 for the current season, up from previous prediction of $3.85; Price of $4.40 confirmed for past season; dividend of 25c; production seen falling more than 5%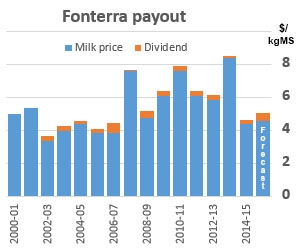 By David Hargreaves
Fonterra's farmers say the final payout for the past dairy season of $4.65 is a "disappointing" result.
The chairman of Fonterra Shareholders' Council Duncan Coull said while it was encouraging to see the improvement in Fonterra's performance in the second half of the season "Farmers will be disappointed with the 25 cent dividend which was at the lower end of their expectations".
"Farmers had an expectation the business would have been able to take greater advantage of the low Milk Price environment.
"The Board and management have given us an undertaking that they have a strategy in place to address this and the expectation from Council is that its implementation will give effect to the turnaround required," Coull said.
Fonterra has massively boosted its forecast milk price to farmer suppliers for the current season, giving an estimate of a $4.60 return per kilogram of milk solids, up from a previous pick of just $3.85 made as recently as last month.
The increased pick by Fonterra comes on the back of a resurgence in global dairy prices in recent weeks.
However, Fonterra also updated and revised down its prediction of milk production, having earlier forecast a drop of 2-3% on last season's output.
Chairman John Wilson said the co-operative was now picking a drop of "more than 5%" in the current season.
"We are 5% behind last season to date and are currently tracking 8% down on last season on a weekly basis. Farmers are responding to the tough economic conditions and with cow numbers down, less supplements being fed and challenging weather conditions for much of the country..."
The giant dairy co-operative has also today re-affirmed a milk price of $4.40 for the past season, and a dividend of 25c, which is right in the middle of the forecast range of 20-30c - though that forecast was trimmed back at the half-year point from an early forecast of 25c-35c.
The New Zealand dollar rose by about quarter of a cent against its American counterpart shortly after the results came out at 8.30am, and it has continued to rise, currently up about half a cent for the day at a little under US63c.
Fonterra has recently announced that it is cutting 750 jobs as part of restructuring. Asked about this today, chief executive Theo Spierings indicated there would be no further substantial cuts.
The company has recently cut back the amounts of, particularly milk powder, it is making available through the GlobalDairyTrade auctions. Asked about this today Spierings said it was selling the product withdrawn from the auctions through "other channels" and he said it was not being stockpiled.
Wilson conceded that a milk price in the $4 range was unsustainable for farmers and something around the $6 mark was what was needed.
ASB chief economist Nick Tuffley said the ASB economists continue to expect that the milk price paid to farmers this season will end up at $5.00/kg. 
"But at this point in the season it is a mild but positive surprise that Fonterra has revised up its outlook as far as it has."
ASB had previously picked a 5% drop in national milk production and Tuffley said Fonterra's changed production guidance today was "mainly endorsing other views on dairy prices and production".
"The recent improvement in dairy prices is a key reason the [Reserve Bank] may choose to pause [from cutting the Official Cash Rate] in October (we are still picking an October cut but it is a lineball call). 
"The production fall is, however, going to drag on economic growth." 
Westpac senior economist Satish Ranchhod said that while the new forecast milk price was still below the break-even level for many farmers, the increase would "come as a welcome relief for many in the dairying sector".
"Compared to Fonterra's previous payout forecast, today's announcement implies an increase in revenue of around $1bn over the coming year."

Ranchhod said Westpac economists' own current forecast for the 2015/16 milk price was $4.30, "but with global dairy prices up nearly 50% from their recent lows, the risks to this clearly lie to the upside (we will formally review our forecast after next week's dairy auction)".
"This is a key reason why we expect the Reserve Bank will decide to keep the OCR on hold at its October meeting before resuming cuts in December."
These are the featured highlights in Fonterra's release of its annual results for the year ended July out today:
Highlights
• Total sales volumes up 9% at 4.3 million metric tonnes
• Revenue $18.8 billion, down 15%
• Normalised EBIT $974 million, up 94%
• Net profit after tax $506 million, up 183%
• Cash Payout $4.65, down 45%
- Farmgate Milk Price $4.40 per kgMS
- Dividend of 25 cents per share
• 2015/16 forecast total available for payout up 75 cents to $5.00 − $5.10 per kgMS
Fonterra's full annual review is available here. Its full financial review is available here. The annual results presentation is available here.
See here for dairy payout history.