The extraordinary resurgence of the New Zealand economy will require a very measured approach from our central bank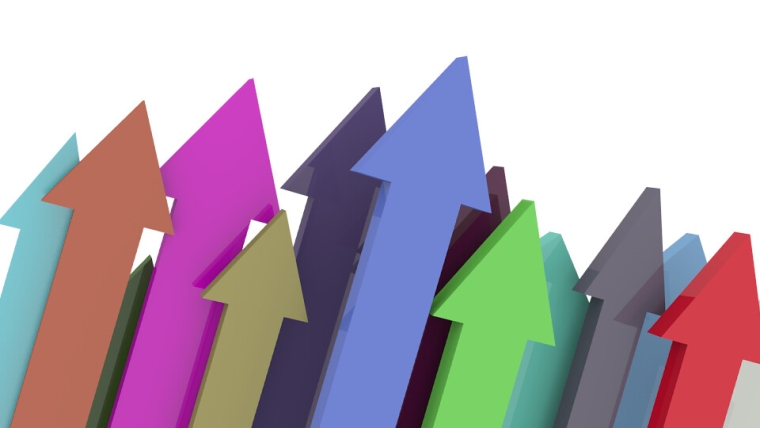 There will have been few more keenly anticipated Reserve Bank (RBNZ) interest rate reviews than the one coming up on August 18.
Expect anything. Official Cash Rate hike? Double Official Cash Rate hike? No Official Cash Rate hike?
Right now the RBNZ is in a very invidious position.
There's no easy decision. 
The central bank could be damned if it 'does' and damned if it 'doesn't'.
This is a position the RBNZ could scarcely have expected to be in even three months ago.
If it raises interest rates starting from August 18 there's two immediate points of concern.
First, what happens if we do get the dreaded Covid Delta outbreak?
Second, how are mortgage holders going to cope with increased payments? Much more on that shortly.
So, okay, the other option for the RBNZ is to 'wait and see', particularly with regard to the ever-present Covid risk.
But the 'do nothing' option carries the risk that the New Zealand economy seriously overheats, inflation gallops, and the RBNZ is then forced later to act harder to rein everything in. We saw that happen particularly in the mid-2000s when the RBNZ had to jack up the interest rates higher and higher because it got behind the eight ball.
To step back for a moment, how much of a risk is the 'do nothing option' then? Those who would oppose raising interest rates now can justifiably point to the New Zealand economy and say it is not exactly performing out of its skin.
True enough. If you look at the latest economic data in isolation this is not an economy absolutely flying.
The point is though that at the moment we still have 'emergency' monetary policy settings (with the OCR at the historic low 0.25% it was dropped to in March 2020), while the speed and quantum of the economic recovery has been so extreme.
It's worth recapping where we were in May when the RBNZ released its last Monetary Policy Statement - and what's happened since.
These were the key two paragraphs from the RBNZ's May MPS:
The [Monetary Policy] Committee noted that medium-term inflation and employment would likely remain below its Remit targets in the absence of prolonged monetary stimulus. The Committee also noted that while the low interest rate environment has supported house prices, other factors such as recent tax changes, the growing supply of housing, and lending restrictions, are providing offsetting pressures.

The Committee agreed to maintain its current stimulatory monetary settings until it is confident that consumer price inflation will be sustained near the 2 percent per annum target midpoint, and that employment is at its maximum sustainable level. Meeting these requirements will necessitate considerable time and patience.
So what happened? Well, let's look back at the key economic data that have been released since that MPS came out.
In mid June the GDP figures for the March quarter were released. The RBNZ forecast the economy to shrink -0.6% - which would have technically put NZ back into recession again (as GDP shrank 1% in the December quarter). Economists, who had the benefit of seeing later economic data than the RBNZ did in the run-up to release of the GDP figures were forecasting a +0.5% rise in the March quarter. The actual figure was a stonking great +1.6% rise.
So that was huge.
Next up, inflation figures for the June quarter released last month. The RBNZ expected 2.6% annual inflation, economists, again with later data at their fingertips said somewhere between 2.8% and 3.0%. It was 3.3%.
Last but not least
And then this week, in the last of the 'big three' data releases there were labour market figures. RBNZ said unemployment rate of 4.7%. Economists said 4.4%. It was 4.0%. Also key in the labour figures were the wage figures for the past year. Here the RBNZ had a pick that was seen as somewhat going for it in terms of a reasonably high expectation of the size of rises. It picked 2.1% annual private sector wage growth. The actual figure was 2.2%.
As you can see, everything has turned out, not just better than forecast, but hugely so. Enormously so. In a 'normal' world you would have to imagine the OCR would be currently at least 1%, if not higher.
The final piece of the jigsaw for the RBNZ will be its own Survey of Expectations, set for release on August 12. The key figure to watch for here is the expectation of inflation in two year's time. The RBNZ looks for these expectations to be 'anchored' at around 2%, which of course is the level of inflation it explicitly targets. 
The last survey released in May had a two-year-out inflation pick of 2.05%. If this figure has increased significantly when the next survey comes out, then it will be a slam dunk, four-out-of-four in terms of the recent economic data coming out way ahead of earlier expectations. There's a possible clue as to what we might see from the most recent (July) ANZ Business Outlook Survey, which had a one-year-out inflation pick of 2.7%, but tellingly the survey answers coming in late in the month (after the June inflation figures were released) averaged a 3.3% pick (which of course mirrors the actual figure from June).
So, what will the RBNZ do?
On balance, waiting may be just too risky. After this interest rate review it has only two more this year before there's then about a three month gap to the next one in late February. If the RBNZ sat back and waited and inflation roared over summer then there could be a lot of catching up to do.
The alternative might be to try a hard and fast approach up front. This could be particularly so as the main banks have last month already anticipated a 25 basis-point rise in the OCR by jacking up their main fixed mortgage rates by about that amount. 
Long time between double-dips
Between when the OCR was first introduced in 1999 and 2000 the RBNZ did on three occasions raise the OCR by 50 basis points. But the last time it did this was in May 2000. Subsequently, for 21 years since, the OCR has only ever been increased in 25bps increments. 
Reductions have been a different story. We had of course the 75bps reduction last March as an emergency measure. And in the 2008-09 period there were twice massive 150bps reductions in response to the Global Financial Crisis. 
But might this be the time for the RBNZ to try a 50bps increase, or even 75bps?
The RBNZ's Monetary Policy Committee, headed by RBNZ Governor Adrian Orr has shown previously that it won't bother walking anywhere when it can run instead. The MPC completely blindsided the market with a 50bps reduction in August 2019 that was not in response to any particular crisis, but was simply done because that's where the committee decided it wanted rates to be.
The hard and fast approach would be sure to get some very quick traction.
In the past year New Zealand mortgage holders have gone 'shorter' with their fixed mortgage rate times. The upshot is that as of June nearly $250 billion of mortgages, out of a total of $318 billion (over 78% of the total) are either floating or due an interest rate reset within the next year. In June 2020 the comparable figure was just 66% of mortgages due for a reset within 12 months.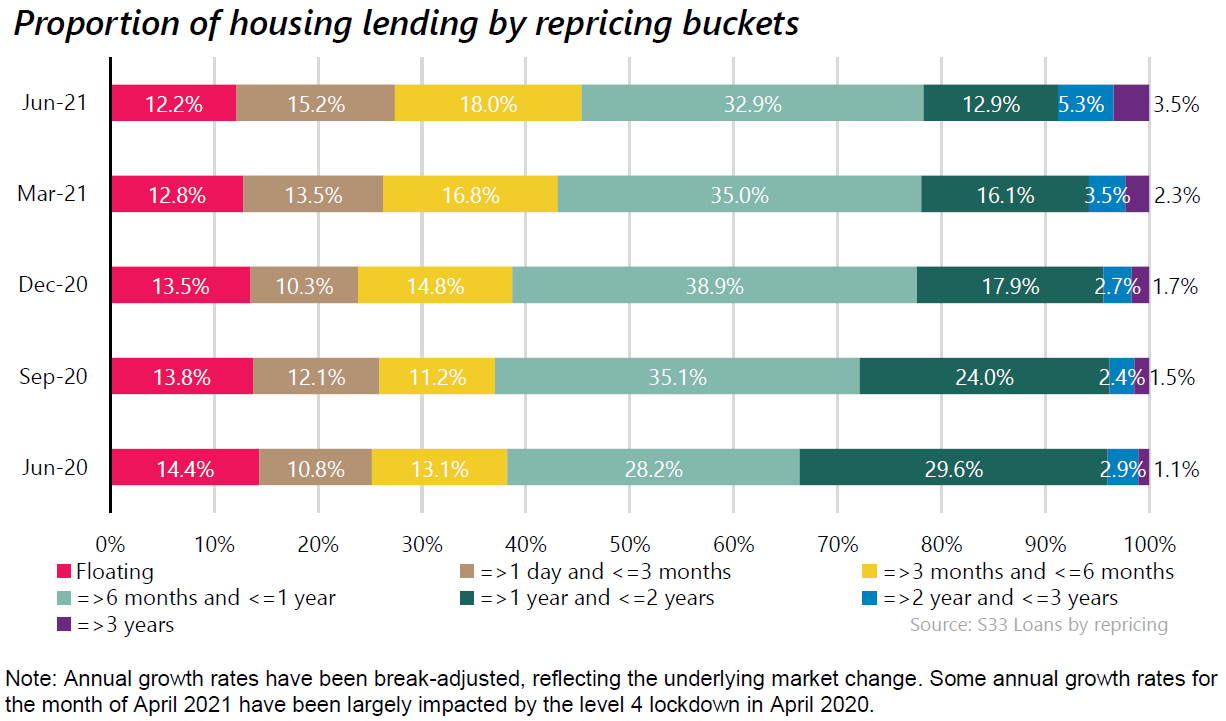 The RBNZ therefore has huge firepower at its disposal at the moment. So, what if it does, as most economists are now picking, hike the OCR to 1% before the end of the year? 
Here's some quick calculations using the interest.co.nz mortgage calculator again. As of June, according to RBNZ monthly figures, the average-sized new mortgage was $337,000. If we take the average one-year fixed rate that applied then (prior to the July bank hikes) of 2.19%, this would over a 30 year term give us monthly payments of $1240. With an OCR of 1% and assuming all 75bps of increase are passed on by the banks (giving a mortgage rate of 2.94%) this would see the payments increase by 10.3% to $1368.
What about first home buyers? As of June their average-sized mortgage was $546,000. Their mortgage payments would rise from $2070 to $2284. 
So, this would all be noticeable, and it would, as well as taking heat out of the housing market, take steam out of the economy as well - because there would be less money to spend.
How hard to squeeze?
The RBNZ faces the dilemma of how hard it squeezes mortgage holders. Because it doesn't want to overdo things. But equally if it doesn't act now and does have to squeeze harder later, then there could be some pain ahead.
For example, the BNZ economists are now picking the OCR will be 2.25% by early 2023 (so, basically only 18 months away).
What if that happened? Well, using our examples above, the one-year mortgage rate would be 4.19% and our $337,000 mortgage holder would now be paying $1597 a month, while our FHB would be paying just under $600 a month more than now at $2667 a month.
I think there's a real risk that we could see our economy grind to a halt if the RBNZ aggressively hikes the OCR.
But the flipside is that sitting on its hands now could see the central bank with an even bigger inflation headache in the future.
A real tough decision is ahead for the RBNZ. It will be really fascinating to see what it does.