ANZ, Westpac, ASB & Rabobank still reviewing whether they'll cut floating lending rates for farmers; BNZ yet to respond to questions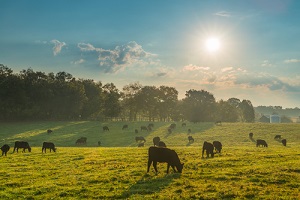 Banks haven't yet cut floating interest rates charged to rural borrowers following last week's Official Cash Rate cut, despite widespread talk about them doing what they can to help indebted farmers through the dairy downturn.
ANZ, Westpac, Rabobank and ASB say they're still "reviewing" their floating rural lending rates, further to the Reserve Bank last Thursday cutting the OCR by 25 basis points to a record low of 2.25%.
Interest.co.nz is still awaiting a response from BNZ, following an inquiry on Monday morning.
While of the above banks, ANZ, ASB and Westpac have cut mortgage rates, and ANZ, BNZ and Westpac have cut savings rates since last Thursday, the banks don't appear to be moving fast with their rural lending rates.
It is worth noting rural lending rates are a little different to personal lending/deposit rates, as banks provide different clients with different rates according to their risk profiles. Yet banks do so using a base rate, which is what we are talking about here.
Last Tuesday Fonterra cut its forecast payout for the current dairy season by 25 cents to $3.90 per kg/MS. Dairy farmers are facing three consecutive seasons of below breakeven payouts, with the Reserve Bank estimating breakeven across the sector at about $5.30 per kg/MS. According to the Reserve Bank, total dairy debt stood at $37.9 billion at June last year, representing about 10% of total bank lending.
Meanwhile, Finance Minister Bill English says the Government won't bail the struggling sector out.
Banks: We assess things on a case-by-case basis
A spokesperson for ANZ – the country's largest dairy lender – says, "We are not announcing any immediate changes to floating rural lending rates. However, these will be kept under review.
"The OCR is only one factor that banks take into consideration when setting interest rates. ANZ looks at this and other factors, including the cost of funding, the cost of capital and operating expenses.
"A risk-based pricing approach is used to determine customer interest rates for our rural and business lending customers and the risk profile of these customers is very different to housing. We assess things on a case-by-case basis as no two farmers have the same businesses."
A Rabobank spokesperson says, "A decision on a cut to our variable base rate will be made shortly at which time this will be communicated to our clients as a priority.
"In general, when it comes to total pricing for clients, decisions are made on a client by client basis and take into consideration a number of factors including risk."
As for fixed rates, they say, "Rabobank's pricing is streamed from market rates and as a result rural lending fixed rates adjusted immediately following the recent OCR review. In effect, the full market impact is already included for new fixed rates."
Neither ANZ, nor Westpac, ASB or Rabobank have provided interest.co.nz with their base floating rates.
A Westpac spokesperson explains, "The base rates vary by product and lending facility offered and we assess each situation on a 1:1 basis. It means there are too many variables open to interpretation to provide rates.
"It's important to note Westpac remains committed and well positioned to work with our Agri customers through the cycles the industry is facing. The key issue remains for farmers to talk regularly with their bank and advisors. We will always try to work with our customers to get the best outcome for all."
Fed Farmers: You'd assume banks are passing on as much as they can
Federated Farmers president Dr William Rolleston says, "We would like to see it all passed on, but banks have to work in a competitive environment, so one would assume they were passing on as much as the interest rate that they feel they're able to.
"They've got to balance their competitiveness in the marketplace against the risk they run and the cost of borrowing.
"The OCR is only one of the factors to consider, because most banks borrow a lot of money from offshore, so then they're actually dealing with offshore interest rates and the risk of the dollar and all those sorts of things. (See Gareth Vaughan's opinion piece on this).
"The best thing the banks can do is to work with their individual customers, and make sure they get through. And that means the banks do need to be reasonably resilient.
"To me it seems like a cheap shot to say the whole lot [the 25bps OCR cut] has to be passed on. I would prefer the banks worked with farmers and had an eye on their long-term prospects.
"I would prefer the banks acted responsibly with their customers, rather than made rash decisions to make themselves look good."