Gareth Vaughan details ANZ New Zealand's long list of faux pas from its annus horribilis and suggests a show of contrition from the bank's top brass would be a welcome step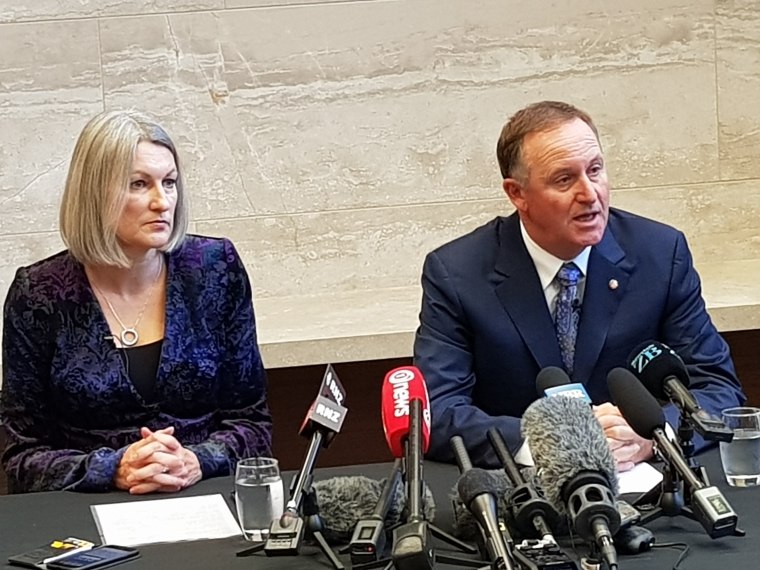 By Gareth Vaughan
On Thursday October 31, the ANZ Banking Group is due to release its annual financial results. Covering the bank's September financial year, they come towards the end of a calendar year that will go down as an annus horribilis for ANZ New Zealand.
There's a lengthy list of issues that got ANZ NZ in the news this year that it would have preferred hadn't got a public airing. Given the extensive list detailed below, and some of the poor conduct involved, a show of public remorse and/or contrition from the country's biggest bank would be welcome on Thursday.
♦ The Reserve Bank revoked ANZ NZ's accreditation to model its own capital requirements for operational risk, citing a persistent failure in both controls and ANZ NZ's director attestation process dating back five years.
♦ The Reserve Bank had ANZ NZ increase its risk weighted assets by more than $10 billion after reviewing its capital adequacy on farm lending and residential mortgage lending. Combined with the revoked accreditation noted above, the two Reserve Bank moves lifted ANZ NZ's minimum regulatory capital requirement by more than $1 billion. For some years ANZ NZ had appeared to be holding lower capital against housing and rural lending than its major rivals, baffling some of those rivals. Against the backdrop of its most extensive review of banks' regulatory capital requirements ever, the Reserve Bank acted on this.
♦ David Hisco, ANZ NZ's CEO since 2010, went on extended sick leave in late May. This was followed in June by news Hisco was leaving the bank. At a curious press conference chairman John Key said Hisco was leaving by mutual agreement, after his expensing to the bank of chauffeur driven cars for personal use and wine storage dating back nine years, costing about $50,000, had come to light.
♦ Subsequently a series of Stuff stories by journalist Kate MacNamara detailed Hisco's broader expenses over his tenure as ANZ NZ CEO, a dubious house purchase by Hisco's wife from ANZ, with the house apparently lumping ANZ with a maintenance bill of more than $100,000 a year, topped off by suggestions ANZ staff tried to blow the whistle on Hisco's expenses as long ago as 2014.
♦ The Financial Markets Authority (FMA) said the sale of the house to Hisco's wife should have been disclosed as a related party transaction in ANZ NZ's 2017 financial statements, and required the bank to issue a corrective statement on its 2017 financial statements. ANZ said it disagreed, considering the transaction not to be material information on the basis that its disclosure couldn't influence the economic decisions of the users of financial statements.
♦ The revelation ANZ NZ fought the FMA through the courts for three years to prevent it being named as Ross Asset Management's bank, and to thwart potential legal action for its role as bank to the Ponzi scheme.
♦ There was also a Stuff report citing an ex-ANZ NZ manager claiming staff were sacked for deleting email addresses from customer files because they didn't want to get bad feedback about their service. ANZ NZ said seven staff lost their jobs over this issue.
♦ An ANZ NZ employee reportedly describing bonus bonds' fees as "the biggest ongoing financial services rort in New Zealand."
♦ ANZ's self righteous and threatening response to the Reserve Bank's proposals to increase bank regulatory capital requirements. The ANZ Banking Group said capital increases of the magnitude proposed by the Reserve Bank would see it "review and reconsider" the size, nature and operations of its NZ business. Additionally Group CEO Shayne Elliott, a New Zealander, said the Reserve Bank's capital proposals would come at a cost, which ANZ can't expect its shareholders to "unreasonably subsidise." In September ANZ NZ said it received more than 10 unsolicited approaches from overseas funds interested in its rural loan portfolio over a six month period but had decided not to sell.
Doing very well out of New Zealand, thank you very much
Over the past decade ANZ has done very well out of NZ, thank you very much. Having bought the National Bank from Lloyds TSB for almost $5.5 billion in 2003, ANZ NZ today generates a quarter of ANZ Group earnings. ANZ's financial performance in NZ really stepped up after the ANZ and National banks were merged onto one IT platform and the National Bank brand was dumped in 2012. Alongside these moves a simplification programme culled dozens of products.
Thus when the ANZ Group's annual results were released a year ago Elliott was able to boast; "Eight years in on the New Zealand story, today we run the bank for less cost than we used to in 2010, we make more revenue, have more customers, have more brand engagement, higher employee engagement, and better returns for shareholders." As I reported earlier this year, between 2009 and 2018 ANZ NZ made net profit after tax of $13.573 billion and paid dividends of $14.638 billion, although some of the dividend payments were offset by share issues.
On May 1 ANZ NZ reported its half-year financial results with net profit after tax for the six months to March 31 of $929 million, down $35 million year-on-year. The bank is likely to deliver a solid annual result on Thursday after annual profit last year surged $206 million, or 12%, to a record high of $1.986 billion.
In last year's results ANZ NZ said it has a financial relationship with about one in two New Zealanders, being people who have or use at least one of its products. That's about 2.45 million people. Against the backdrop of its annus horribilis, ANZ NZ has anecdotally been losing some customers. It will be interesting to see whether this is acknowledged in its annual results.
The results will be fronted by acting CEO Antonia Watson. Acting CEO since Hisco went on sick leave at the end of May, Watson stepped up from her role as managing director of retail and business banking. Prior to that she was ANZ NZ's chief financial officer from 2012 to 2017, and financial controller from 2009 to 2012.
At the June press conference Key effectively endorsed Watson as Hisco's permanent successor, saying he hoped she would apply for the job. However it has subsequently emerged that Watson was a director of Arawata Assets, the ANZ controlled company that sold the house to Hisco's wife. This may harm her prospects of succeeding Hisco on a permanent basis. ANZ NZ has said it expects to appoint a permanent successor to Hisco by year's end.
At the coalface of a regulatory capital squeeze
ANZ NZ and its Australian parent are at the coalface of a capital squeeze from both the Reserve Bank of NZ and the Australian Prudential Regulation Authority (APRA). That's because the other big three Australian banks' Kiwi subsidiaries only provide about 10% of group earnings.
ANZ has estimated the RBNZ's proposals would see ANZ NZ requiring between NZ$6 billion and NZ$8 billion of new capital over the proposed five year transition period. Meanwhile, it suggests APRA's plans to change the capital treatment by Aussie banks of their investments in overseas subsidiaries could potentially reduce its capital by about A$2.5 billion. However, ANZ says after unspecified management action is taken into account, the net capital impact could be minimal.
To tackle the regulatory capital imposts banking analysts have suggested ANZ could reposition capital into smaller subsidiaries, write NZ institutional loans in Australia or via its NZ branch, shrink its balance sheet, "reprice" loans and deposits, or even divest or scale down NZ operations. 
Aside from the threat to scale down NZ operations, ANZ has not commented on the other scenarios touted by analysts. Nor has there been any acknowledgement that another option is accepting its halcyon days in NZ are over, and it and its shareholders will have to settle for good instead of excellent returns from NZ in the future.
It's probably too much to expect this sort of acknowledgement from ANZ, or any of the other Australian owned banks that dominate NZ banking, at least until the final Reserve Bank capital decisions are revealed in early December. But expressing some contrition on Thursday for the poor conduct and problems that have bedevilled the bank this year would mark a refreshing change for ANZ NZ. 
*This article was first published in our email for paying subscribers early on Thursday morning. See here for more details and how to subscribe.