BNZ economists anticipate ongoing interest rate increases and constrained household spending; a recession is 'possible' but not their 'central scenario' barring an external shock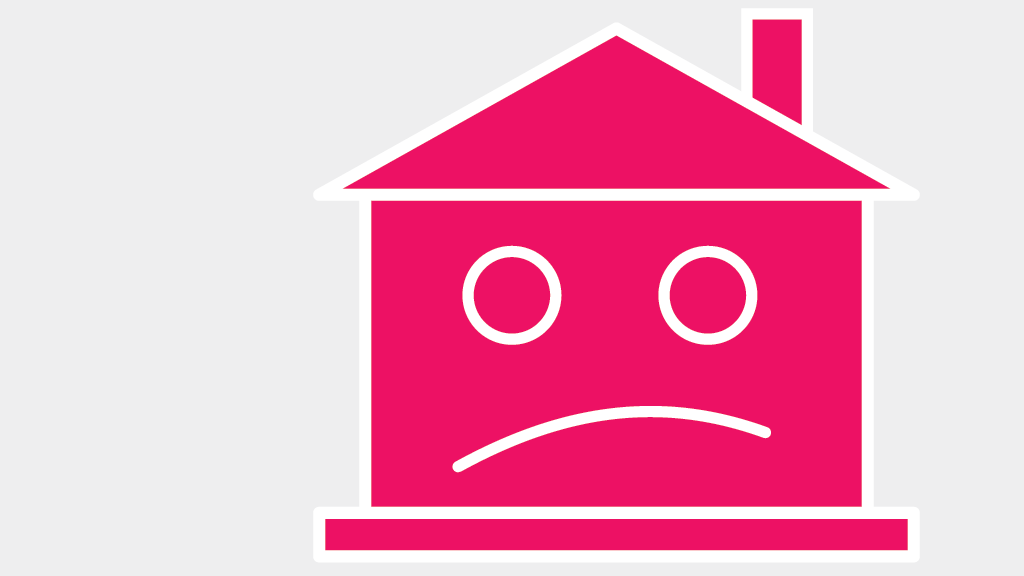 BNZ economists are now forecasting 'modest' falls in house prices but say a "large correction" can't be ruled out.
The economists also anticipate ongoing interest rate increases, constrained household spending and, "while a recession is possible it is not our central scenario, barring an external shock".
The BNZ economists join Westpac economists and prior to that the Reserve Bank (RBNZ) in forecasting outright falls in house prices. Other economists have forecast sharp falls in house price inflation from next year, but with house price growth on an annual basis just remaining positive. ANZ economists for example last week said they expected a few months of falling prices next year but the market would have a "soft landing"
In the latest BNZ Markets Outlook BNZ head of research Stephen Toplis notes that "with just one increase" in the Official Cash Rate from the RBNZ so far, raising it from 0.25% to 0.5%, bank lending rates "have moved dramatically".
He says there are "far too many people" saying the RBNZ can't raise interest rates much because it would result in weak growth, an increase in the unemployment rate and, potentially, a significant fall in house prices.
"The Reserve Bank won't say it so explicitly but this is the very point of increasing rates..."
Money markets have now priced in an OCR rising to 3.0% by July 2023, Toplis says.
"Some, but not all, of this is now being reflected in those lending rates," he says.
"The average two-year mortgage rate, for example, is up around 175 basis points."
Toplis says there are already the first, largely anecdotal, signs that this is starting to impact the housing market.
"Additionally, it is clear the banking system is starting to tighten lending criteria in light of the tighter prudential requirements (both already introduced and proposed) by the central bank, and as banks reassess their risk in a market that is looking increasingly fragile.
"All of this will inevitably lead to, at best, a stalling in house price appreciation. More probably we will see a modest correction in prices (which is our central forecast). A large correction cannot be ruled out."
Toplis doesn't put figures on the likely size of the house price fall in the text of his article, but the accompanying graphs suggest a fall of perhaps 6%-7% at its fullest extent.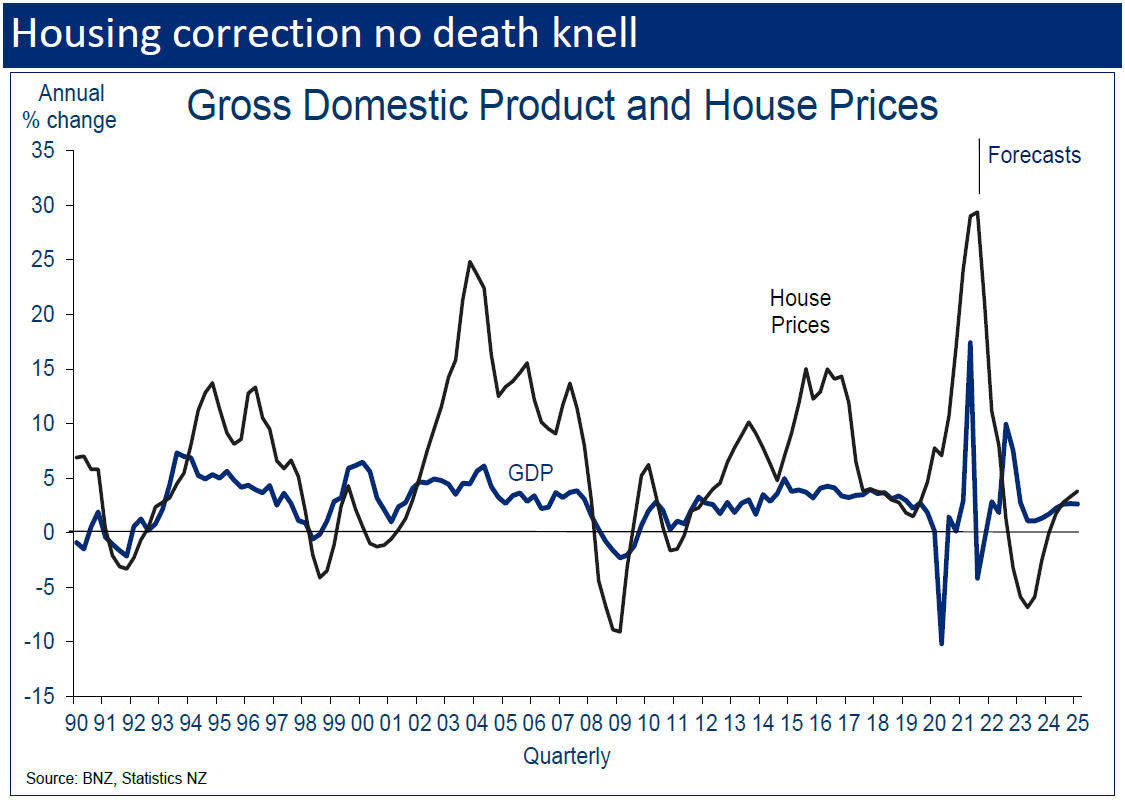 Toplis says falling house prices and rising interest rates tend to have their biggest impact on private consumption (household spending) and residential construction.
"There is no reason to believe things will be any different this time around but there are reasons to hope that there is enough momentum elsewhere to keep the broader economy's head above water."
While overall spending may hold up, durables spending is most at risk, he says and notes that:
It is the sector that will be most affected by rising interest rates and falling asset prices;
There appears to have been "overspending" in this sector;
Durables goods spending tends to follow a replacement cycle – once you've bought a big ticket item you don't need to replace it again for some time;
New Zealanders will, again, start to travel, both domestically and offshore, diverting money that was spent on durables towards services;
A softening housing sector has its greatest impact on durables spending.
"Of course, there is significant noise in all data at the moment so it is difficult to quantify anything but, on balance, we do think the combination of falling house prices and rising interest rates will meaningfully constrain private consumption over the medium term. This pressure is likely to be at its peak in late 2022, early 2023."
In terms of the outlook for the construction sector, Toplis says that, not surprisingly, house prices and residential construction also "cycle together".
"Falling house prices tilt affordability towards existing houses and away from newbuilds. This will be especially so given the rapid increase in construction costs that we are now seeing."
He says that, generally speaking, the combination of rising construction costs, higher interest rates, the current acceleration in supply (which is greater than the acceleration in demand) and falling house prices will lead to a reduction in residential construction activity.
"There is no reason to believe otherwise in the period ahead. Nonetheless, activity is likely to remain more elevated than might normally have been the case because of the severe backlog of work that currently exists, caused by extreme capacity constraints, and the starting point of undersupply."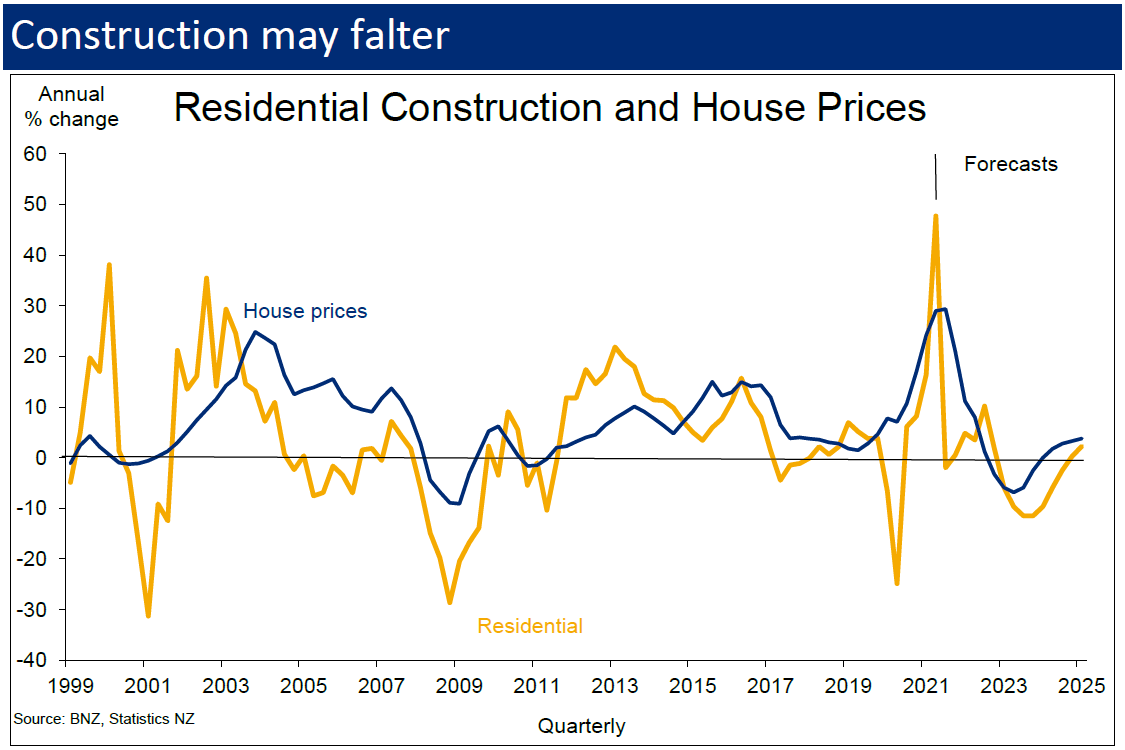 "If we do get downward pressure on private consumption and residential construction, does it necessarily mean the economy will go into a broader recession? No.
"Indeed it is rare that New Zealand goes into recession without the influence of a major shock. In fact, even house prices have not corrected in recent history without the presence of an external event."
Toplis notes that "in the event things get a bit hairy" in the NZ economy, the government is well placed to provide support given that its relative debt position is "not threatening".