Gareth Vaughan delves into the Reserve Bank's mandate, economic policy settings, the housing market and the type of society New Zealanders want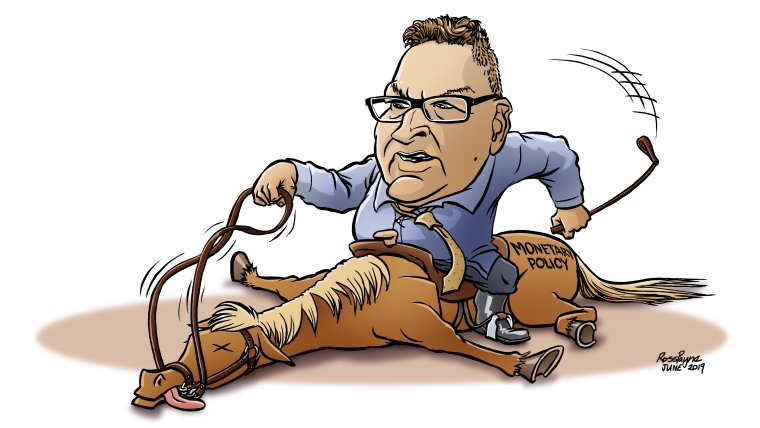 By Gareth Vaughan
On Wednesday the Reserve Bank unveiled plans to both reintroduce restrictions on banks' low deposit mortgage lending, and provide the same banks with up to $28 billion of funding priced at the record low 0.25% Official Cash Rate, which they can use to fund home loans.
Against the backdrop of a housing market that's on fire, the Reserve Bank's taking with its left hand and giving with its right hand. On what planet does that make sense?
That would be Planet Conventional Economic Settings.
Reserve Bank Governor Adrian Orr, currently New Zealand's favourite punching bag, was at pains to point out the Reserve Bank's actions are designed to try to meet its mandates.
"I think it is really important to understand that we are doing what we are doing today, and always, for the purpose of the Reserve Bank's mandate and operating within its remit. And that is about making sure the [goods and services] consumer price inflation remains somewhere between 1[%] to 3% per annum on average, and that employment is as best can be near its maximum sustainable level. And that is what's driving our action today," Orr said.

"Around the loan-to-value restrictions...the other mandate is to ensure financial stability. And we have seen a marked acceleration in higher risk loans particularly to investors in the property market."
The high loan-to-value ratio (LVR) restrictions are about higher risk loans and making sure "they don't cause unnecessary long term problems for the [financial] institutions," Orr said.
Reinstating the LVR restrictions on home loans is required because the Reserve Bank's decision to remove them in April with just a weeks notice was a mistake. Obviously the decision came against the backdrop of immense uncertainty caused by COVID-19. But waiting for some evidence the LVR restrictions were gumming up the works in a COVID world might have been advisable, especially given they can be removed so quickly.
What sort of society do we want?
But a bigger issue for me is whether we actually have our economic policy settings right. And this is a really important question because it goes straight to the heart of what sort of society we want.
Do we want a society where the children of renters have little to no chance of becoming a home owner? And one where even some of those whose parents are home owners must wait for their parents to die before they can get an inheritance and afford a home of their own?
In an interview with TVNZ's John Campbell on Friday morning, Orr fingered a lack of housing supply as the problem when questioned by Campbell about young people being priced out of the housing market.
"Inter-generational fairness is something that I would lose sleep over but it's not something that I can intervene with with the tools of monetary policy," Orr said.
"Yes, supply side is absolutely critical, affordable houses. Central government, local government, industry, get together, get it sorted, move on."
However monetary policy settings in the age of COVID have ushered in record low mortgage interest rates meaning for people with job security, the combination of super low borrowing rates and greater capacity for and willingness from banks to offer low deposit lending, means there has never been a better time to buy property. And that's just owner-occupiers. If you're an investor with equity in existing property/properties, with capital gains and wealth taxes ruled out by a popular Prime Minister and miserably low bank deposit rates, fill your boots.
Cheap credit is a key factor spurring on demand for houses in a market where the national median selling price surged 20% in the October year.
Now that's not to downplay the supply shortages. At the end of August 20,385 eligible households were on the waitlist for state or social housing. That's the first time the number has topped 20,000 and this has occurred with the border shut to immigrants. It has also happened despite new dwelling consents rising every year since 2012, and 52% year-on-year in Auckland during September.
What economic settings do we need to achieve the society we want?
Getting back to the question of what sort of society we want, my sense is a comfortable majority of New Zealanders want one that's egalitarian in the sense of housing opportunities. A key question then becomes what economic settings do we need to help achieve this? 
In terms of the Reserve Bank's inflation target, arguably this is applying outdated conventional economic thinking in unconventional economic times.
Inflation targeting became all the rage for central banks in the 1980s. And fair enough. High inflation was a problem. But it's not now and hasn't been for some years. 
As Orr put it on Wednesday: "One thing we know about central banks globally, they have proved highly effective at fighting inflation from high to low. We don't have a great track record to date of fighting it from very low back to something within their mandate."
Richard Yetsenga, chief economist and head of research at the ANZ Banking Group, recently told me something similar.
"When we adopted conventionally applied inflation targeting three decades ago, nobody even raised the issue about what happens if monetary policy can't get inflation to rise. It wasn't even a question. And clearly we've discovered it's a really important question," Yetsenga said.
Yetsenga suggests against the backdrop of COVID, central banks are effectively targeting "a mixing bowl of objectives" around inflation, unemployment and financial stability, and that this is likely to continue.
With major government fiscal support for the economy, John McDermott, a former Reserve Bank assistant governor and head of economics who is now executive director of public policy researcher Motu, recently told me there's a need to think more holistically about how the economy works. McDermott suggested dusting off the fiscal theory of the price level and the quantitative theory of money and adding them to the monetary policy mix.
The quantity theory of money is a theory that variations in price relate to variations in the money supply. And the fiscal theory of the price level describes fiscal and monetary policy rules such that the price level is determined by government debt and fiscal policy alone, with monetary policy playing at best an indirect role.
There's also the question of whether the Reserve Bank's inflation target could be moved lower to, say, 0% to 2%. And could we be measuring asset price inflation, something that's currently not happening? Remember we now live in a world where capital is no longer scarce, it's oozing in all directions, and technological developments mean human labour isn't required to the extent it used to be. See what author and Macquarie analyst Viktor Shvets has to say on this breakdown of capitalism as we know it here.
What is maximum sustainable employment and is it good enough?
Then there's the Reserve Bank's mandate to target maximum sustainable employment.
Just what is maximum sustainable employment? In February the Reserve Bank said in its estimate employment was "around or slightly above its maximum sustainable level," at a time when the latest Statistics NZ figures had 112,000 people unemployed, giving an unemployment rate of 4%.
Turning once again to the question of what sort of society we want, is 4% unemployment, with more than 100,000 people out of work, something that's acceptable? Or should anyone who wants to work be able to?
Arthur Grimes, former Reserve Bank chairman, chief economist and an inflation-targeting architect, recently told my colleague Jenée Tibshraeny the Government's 2018 decision to add maximum sustainable employment to the Reserve Bank's monetary policy remit alongside inflation was a mistake. Instead, government fiscal policy should address unemployment, Grimes argues.
Concern has been mounting in recent years over future work opportunities against a backdrop of advancing technology, such as artificial intelligence, reducing the need for human labour. Interestingly this week National Party leader Judith Collins named herself as party spokesperson for technology, manufacturing and artificial intelligence.
These fears over dwindling work opportunities have led to the promotion of a universal basic income (UBI), whose most vocal NZ proponent is Geoff Simmons, until recently leader of The Opportunities Party. Another concept with growing support is a government job guarantee. The Tasmanian Greens successfully moved a motion recently calling on the State Government to investigate how a jobs guarantee might be implemented in Tasmania during the COVID-19 recovery.
"The impacts of the pandemic on Australians and Tasmanians is devastating and it will have generational impacts. The power of having employment, of having a job and the dignity of work, cannot be overstated," Cassy O'Connor, the leader of Tasmania's Greens, said.
Steven Hail, lecturer at the University of Adelaide School of Economics, describes a job guarantee as offering a government job to everyone who would like to take such a job. Hail also describes the concept of a job bank, through which jobs are available for people to draw on in local communities, depending on each community's needs.
In the September quarter New Zealand's unemployment rose to 5.3%, or 151,000 people. In last week's monetary policy statement the Reserve Bank said this rise suggests employment has fallen below its maximum sustainable level. Unemployment is expected to rise further next year as the full impacts of the COVID crisis take effect. Is it thus not an opportune moment to consider whether targeting maximum sustainable employment is acceptable in the type of society we want?
And then there's QE, and housing...
In a further effort to meet its monetary policy mandate the Reserve Bank is running a Large Scale Asset Programme, or Quantitative Easing (QE). Through this it's buying government and local government bonds from banks and pension funds in the secondary market. It's currently planning to buy up to $100 billion worth with new money by June 2022 with the aim of pushing down interest rates.
Evidence from overseas, notably the United States over the past decade, suggests QE benefits asset owners, especially owners of property and shares, over non-asset owners and thus increases wealth inequality. A Columbia University report for the Department of the Treasury concluded QE more than likely mitigated income inequality in the US, but just as likely exacerbated wealth inequality and consumption inequality. Once again, is this the sort of society we want?
Back to housing, the newly minted Labour-alone government has pledged to overhaul a long-term bugbear of those decrying a lack of housing supply, the Resource Management Act, and have the Commerce Commission probe the competitiveness of the building supplies sector. There are other housing market bugbears that interest.co.nz readers are familiar with such as local government consenting costs, land prices, and banks' regulatory capital settings through which housing loans require less capital to be held against them than loans to businesses.
The reality is New Zealand's housing market is broken and has been for a long time. Statistics NZ figures show 65% of households owned their own home in the third quarter this year, down from 74% in 1991. Wage growth has lagged the soaring growth of housing values, sending house price to income ratios higher, leading to high household debt levels, as demonstrated in the charts below. All this means a significant rise in mortgage rates, should it ever occur, would cause significant economic pain to homeowners with big mortgages.
The salutary tale of Francis Fukuyama
Back in 1989, the same year the Reserve Bank of New Zealand Act was passed enshrining the central bank's independence and inflation targeting mandate in law, American political scientist Francis Fukuyama famously proclaimed the end of history. Fukuyama made this call after the fall of the Berlin Wall hastened the demise of communism in Eastern Europe. Thus, he argued, free-market liberal democracy had won and would become the world's "final form of human government."
In 2018 Fukuyama issued a mea culpa via an article entitled, Against Identity Politics The New Tribalism and the Crisis of Democracy. He noted democracy had retreated in virtually all regions of the world with authoritarian countries, led by China and Russia, becoming more assertive.
The tale of Fukuyama is a good lesson that finality is a very big concept. And that dogmatic positions can come back to haunt you. I hope that as we New Zealanders continue to debate the short comings of our property market, our Reserve Bank's mandate, key economic settings and the sort of society we want, we remember that the world is always changing and what was the right approach once might not be anymore.