The 2016 Interesties featuring John Key, Donald Trump, Graeme Wheeler, 'maniping,' Metiria Turei, Tony Alexander, Nathan Penny, Nelson's stock exchange, Andrew Little, Chloe Swarbrick, David Hisco, bad hair & a dictator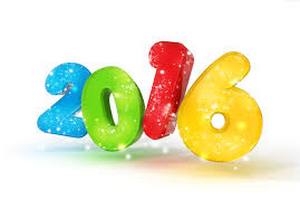 By Gareth Vaughan
Somewhere in the frozen north there's a large man getting out his red suit, checking the reindeer and preparing his sleigh. Yes, it's Christmas time again.
Where did 2016 go? In what seems like the blink of an eye, another year has flown by. And it has certainly been an eventful one, both here in New Zealand and right around the world.
Thus it must again be time for our annual Interesties Awards, where we take a light hearted look at the events and people that made our news this year.
As ever, we welcome your comments (and additional awards) in the comment thread below.
Here's wishing all interest.co.nz readers, viewers, contributors and commenters a very Merry Christmas, and a happy and fulfilling 2017. And thanks for your support during 2016.
All the previous versions of our annual Interesties awards can be found here.
Banking, finance & economics awards
The William Trubridge Freediving Award - The Reserve Bank for cutting the Official Cash Rate (OCR) to a record low of 1.75%.
The Zero to Hero Award - ASB senior rural economist Nathan Penny for steadfastly sticking to his $6.00/kg Fonterra 2016/17 milk price forecast when some observers, including one close to my keyboard, thought he was either wildly optimistic or completely bonkers. Incidentally, on Wednesday Penny's forecast was increased to $6.50/kg. 
The You Don't Know How Lucky You Are (To Still be in Business) Award - Disgraced insurer Youi (see more on this below).
The Dame Susan Devoy Services to Race Relations Award - Westpac NZ for its "Hello Asian" email.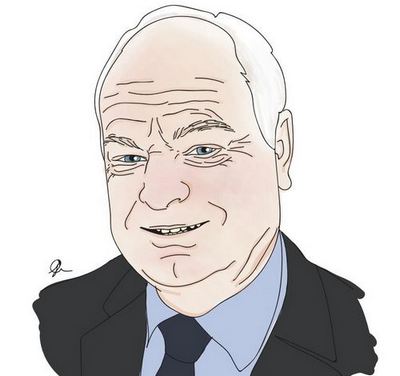 The Limbo Dancer's Lower and Lower Award - The OCR.
The Dingo Deans Award for Services to Australian Shareholders - ANZ New Zealand CEO David Hisco (pictured right) for his banks' $1.32 billion worth of dividends, equivalent to 86% of annual cash profit.
The Better Late Than Never Award - Chairwoman Janet Yellen and the rest of the US Federal Reserve's Federal Open Markets Committee for finally hiking interest rates at their last meeting of the year.
 The Politically Explosive Suggestion Award - IAG NZ's chief risk officer Karl Armstrong for suggesting insurance policyholders in parts of the country less prone to earthquakes will stop subsidising policyholders in more risky parts of the country.
The Best Name in New Zealand Banking and Finance Award - Having unwittingly ignored him for several years, (see last year's Interesties), Nikko Asset Management fixed income analyst Tim O'Loan can have this one for a second consecutive year. Honourable mentions go to former winners SBS Bank chief financial officer Tim Loan, and PwC partner Chris Money.
The Slipping Under the Tax Dodging Radar Award - Visa and Mastercard. (Although we did highlight their tax positions here).
The Are We Still Relevant Award? - Governor Graeme Wheeler and his Reserve Bank colleagues as their Monetary Policy lost potency.
The Indiana Jones Last Crusade Award - Reserve Bank head of prudential supervision Toby Fiennes who thinks he may have found his holy grail in the prudential regulator's "Dashboard Approach" to bank disclosure. (The trading banks disagree).
The Master Griller Award - Massachusetts Senator Elizabeth Warren for roasting Wells Fargo CEO John Stumpf (see below).
The His Master's Voice Award - ANZ chief economist Cameron Bagrie for predicting (correctly) that banks wouldn't be passing on much of the OCR cuts to borrowers.
The Bringing the New Zealand Financial Services Sector Into Disrepute Award - Shared by the Financial Service Providers Register and its overlord the Ministry of Business, Innovation & Employment. Why? See here.
The Quote of the Year Award - Won jointly by Port Motueka resident Dan Oakeley and Aucklander "Sharma N", who both featured in Diana Clement's outstanding Youi expose.
Oakeley posted this on Youi's Facebook page:
"I nearly lost the will to live too, but hung on in there. They finally quoted me $500ish nearly twice what I pay with AMI. Youi(d) best leave them alone..BASTARDS,,,!" 
And here's "Sharma N":
 "I told them not to start any of the policies unless I call back to go ahead. After (a) couple of weeks I saw three different withdrawals from my saving account around $950….for my home insurance and the rest for contents and car. No approval. No policy documents. Not even a single letter from them and they took this amount from me. Unbelievably shocking." Sharma added: "Literally they made me beg them for my own money; calling them thrice a day/repeating the whole story to a new sales rep every time/putting me on hold for hours." 
The Say What? Award - The revelation that Nelson had a stock exchange, supposedly based in the building below.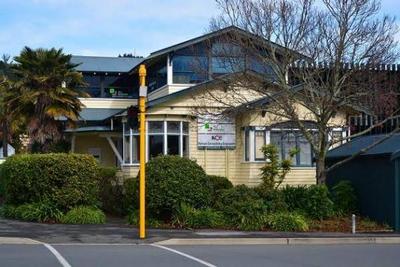 The How Not to Incentive Your Staff Award - Youi. Again, courtesy of Clement. Here's a a couple of examples of why Youi takes this gong.
The second ex-employee said it was common practice to change the date houses were built in order to reduce the premium. "If you put that your house was built in 1920, the agent might change it to 2015. That would make it a lot cheaper." That's because the system then spits out a cheaper premium and the staff members gets paid a "commission" for it, he said.
And:
"If you didn't get enough sales every day (managers would say) 'what's the point of you being here if you are not selling'," one said. "If you didn't data manipulate, the premiums are ridiculously expensive. If you were an honest person you didn't sell anything." One of the highest earning staff members allegedly advised him: "manip your data man".
The Unfortunate Word of the Year Award - One last contribution from the Youi files; "Maniping." And here's the explanation:
Manipulation of data, the worst allegation faced by Youi, was so common there was in-house jargon with staff calling the practice "maniping."
The Secret Squirrel Award - TSB Bank for refusing to acknowledge it's lending money through peer-to-peer lender Harmoney.
Property awards
The (Political) Lifetime Services to Auckland's Property Bubble Award - Recently departed Prime Minister John Key.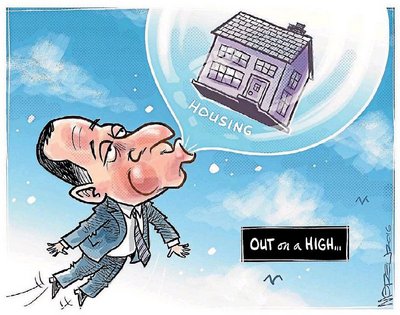 (Moreu cartoon above from The Timaru Herald).
The Worst Attempt at Spin Award - The Government for talking of a "housing challenge" and refusing to acknowledge a "housing crisis."
The Speaking Sense, Albeit From a Perspective of Self Interest, Award - ANZ's David Hisco for publicly ringing the alarm on the housing market here and here.
The Pouring Cold Water on a Grand Plan Award - BNZ chief economist Tony Alexander for pointing out building 422,000 houses in Auckland over 25 years, as touted by the Unitary Plan, requires a volume of building that previously took 161 years to achieve.
The Defence of Baby Boomers Dominating the Housing Market Award - Tony Alexander. Detail here.
The Services to Cartels Award - Several of the country's biggest real estate agencies, including Harcourts and Barfoot & Thompson, who were fined millions of dollars for price fixing.
The She Said What?! Award - Green Party Co-leader Metiria Turei for saying house prices need to fall.
The Heads Buried in the Sand Award - To those banging on that Auckland's housing problems are solely a supply issue. Debunked by our own Greg Ninness here.
The Please Beef Up My Toolbox Award - The Reserve Bank's Graeme Wheeler, who is still seeking government approval for the inclusion of a tool limiting debt-to-income ratios for residential mortgage borrowers in the central bank's macro-prudential toolkit. (Don't hold your breath Graeme).
Political awards
The I May be in the Game After All Award - Labour Party leader Andrew Little.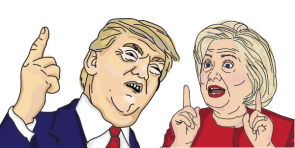 Recipient of the Early Christmas Present That Could Turn Into a Hospital Pass Award - Bill English for succeeding John Key as Prime Minister. 
The (Former) New Zealand Politician Most Likely to Boost Hawaiian Tourism Award - John Key.
The Politician Most Likely to Start World War III Via Twitter Award - US President elect Donald Trump.
The Ye Olde British Empire Divide and Rule Award - Donald Trump.
The You Know When the Systems Broken Because Award - Donald Trump and Hillary Clinton running as the two candidates for US President.
The Politician Whose Career is Most Likely to End in 2017 Award - Take your pick from Andrew Little, Bill English, Murray McCully, Nick Smith, Steven Joyce, Judith Collins, Peter Dunne, Gareth Morgan, Malcolm Turnbull (Aussie PMs have a short shelf life these days), or Donald Trump.
The There's Nothing to See Here Move Along Award I - John Key in regards to the housing "challenge."
The There's Nothing to See Here Move Along Award II - John Key in regards to the Panama Papers.
The There's Nothing to See Here Move Along Award III - Shared by John Key, Steven Joyce and Bill English in regards to record population gains from migration.
The Search For Charisma (And Still Looking) Award - Andrew Little.
The Charismatic Speaker of the Year Award - Michelle Obama.
 The Bravery Award - Green Party Co-leader Metiria Turei for saying house prices need to fall.
The Global Puppet Master Award - Russian President Vladimir Putin.
The Giving Generation Y Hope Award - the new Greens recruit Chloe Swarbrick.
The My Time is Coming I Can Just Feel It Award - NZ First leader Winston Peters basking in Brexit and the election of Donald Trump with this Facebook post: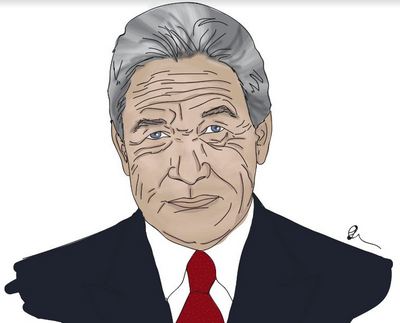 Today the USA joined the UK in sending the establishment a message. The same thing that happened today in the US, and what happened earlier with Brexit in the UK, is happening here in NZ. Many of you, just as in the UK and USA, have been used and abused by the old political parties, and all of the new ones, except one. You've been ignored by the political parties who have been blind to your problems and deaf to your voices. My message to you today is, "I hear you. I see your troubles and help is on the way."
The Obsessed With What Max Key's Saying & Doing on Social Media Award - Shared by the NZ Herald and Stuff websites.
The Please Stop Telling Us What He's Up To Now His Dad Has Stepped Down Award - Shared by the NZ Herald and Stuff websites in regards to Max Key.
The We're Going to Hell in a Handbasket Award - For the second consecutive year this one goes to Labour Finance Spokesman Grant Robertson for his steady stream of press releases on how National is ruining/has ruined the economy.
The Telling Politicians What's What on Superannuation Award - Retirement Commissioner Diane Maxwell.
The Central Banker Wading into Politics Award - Reserve Bank Governor Graeme Wheeler for his various comments on the bank's plans for debt-to-income ratios and revelations of meetings with senior government ministers.
The Mayor Most Likely to Argue With the Government over Housing and Transport in 2017 Award - Auckland Mayor Phil Goff.
The Possum in the Headlights, I Can't Believe We Actually Won, What Will I do now Award - Boris Johnson after the Brexit vote.
The Politician With the Worst Hair Award - Shared by Donald Trump and Boris Johnson.
Interest.co.nz commenter awards
The Welcome Back Award - Gummy Bear Hero.
The Dog With a Bone Award - Shared by Stephen Hulme for his comments on the Reserve Bank's Open Bank Resolution policy, Boatman for his comments on Donald Trump, and Zachery Smith for his comments on anything and everything.
The Sparring Partners For Life Award - Gordon and The Man 2.
The I Was Right, I Am Right, I Am Always Right Award - Big Daddy.
The Blast from the Past Award - Christov.
The Humorous yet Informative Award - Waymad. 
The Good to see him Wade In Occasionally Award - Gareth Morgan.
The Best Name Award - Still loving the old favourites, (see previous editions of the Interesties), but a new winner this year. "dictator." Who would argue with him/her?
Comment of the Year Award - Lots of contenders, but I've gone for the following from PocketAces partly because it was fresh in my memory.

It was in response to a comment that was indeed promptly removed from the thread on this Barfoot & Thompson auction story.
There have, however, been lots of informative, entertaining and humorous comments from readers this year. Thanks to all those who have made them.
Chart of the year 
Dairy prices have been quite a story this year...