Gareth Vaughan argues the RBNZ's proposals to increase bank capital requirements could be good for both NZ banking competition and NZ taxpayers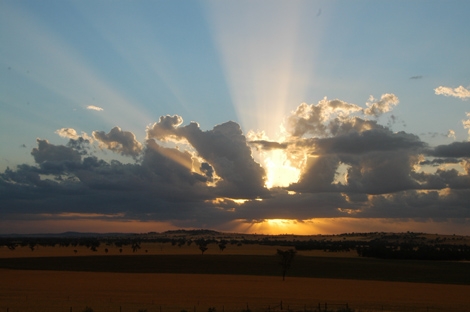 By Gareth Vaughan
The Reserve Bank of New Zealand's proposals to significantly increase the amount of capital New Zealand banks must hold should be a good thing for both banking competition and NZ taxpayers.
If adopted the proposals could challenge the near complete dominance of NZ's four Australian owned banks, which are among the world's most profitable. The proposals suggest a long-term focus from the RBNZ, somewhat akin to the long-term investment focus at the NZ Superannuation Fund, where RBNZ Governor Adrian Orr used to be CEO.
The RBNZ proposals announced in December would see NZ banks - led by ANZ NZ, ASB, BNZ and Westpac NZ - required to bolster their capital by about $20 billion over a minimum of five years. (For background and detail on the proposals and bank capital in general, and the nuts and bolts of what's proposed, see our three part series here, here and here.  Additionally the RBNZ proposes to designate the big four as systemically important banks meaning they'd have capital requirements above and beyond other banks).
Get set for opposition from the big four banks and their allies, including business lobby groups and professional services firms, to ramp up in coming weeks. Key questions to keep in mind are who pays for increased bank capital, shareholders or customers? And who's on the hook if a bank fails, shareholders or taxpayers? 
Make no mistake. The big four banks are very grumpy about these RBNZ proposals. This much is clear even though little has been heard from them publicly to date. The only big four CEO who has spoken publicly on the proposals so far is ASB's Vittoria Shortt. Speaking after ASB posted record interim profit of $630 million on Waitangi Day, Shortt warned of "unintended consequences" from the RBNZ's proposals, being "pricing changes" (read higher interest rates for borrowers and lower ones for savers) and "credit rationalisation," or banks limiting the amount of money they lend.
With ANZ, BNZ and Westpac reporting interim financial results in early May when their CEOs give media interviews, and submissions on the RBNZ proposals due on May 17, we're set to hear more from the other big banks.
The narrative will go something like this: The RBNZ's sums don't add up, NZ banks are very safe, banks don't need as much capital as the regulator is proposing, and if they're forced to make such significant capital increases, their Australian shareholders will invest elsewhere meaning all New Zealanders will suffer, risking the economy grinding to a halt. 
NZ owned banks have a different view
A key factor that will become apparent though is there's not universal opposition to the RBNZ proposals across all of the country's trading banks. Far from it.
Kiwibank CEO Steve Jurkovich is already on the record as backing the RBNZ's capital plans. This is because they would largely remove the significant capital advantage ANZ, ASB, BNZ and Westpac currently enjoy over their NZ-owned rivals such as Kiwibank.
The Australian owned banks' capital, and thus profitability, advantage over their competitors is because they are allowed to use what's known as the Internal Ratings Based approach to credit risk measurement. All other NZ banks must use what's known as the standardised approach. This means the big four set their own models for measuring risk exposure which they must then get approved by the RBNZ. In contrast NZ owned banks, and other foreign owned banks operating in NZ, use the standardised approach with their credit risk prescribed by the RBNZ.
The upshot of this is the big four are able to stretch capital further than their smaller rivals, boosting their profitability. I spelt out the significance of the RBNZ's proposed levelling of the capital playing field in this article in December.
Interest.co.nz understands other NZ owned banks, such as The Co-operative Bank, SBS Bank and TSB, will - like Kiwibank - also back the RBNZ's proposal for a levelling of the capital playing field in a submission. 
All up NZ has 17 banks registered with the RBNZ that offer retail banking services, - ANZ, ASB, Bank of Baroda, Bank of China, Bank of India, BNZ, China Construction Bank, Heartland Bank, Industrial and Commercial Bank of China, Kiwibank, Kookmin Bank, Rabobank, SBS Bank, The Co-operative Bank, HSBC, TSB and Westpac. Yet just four of them - ANZ, ASB, BNZ and Westpac - hold 88% of banking system assets, and also 88% of banking system liabilities.
RBNZ's proposals challenge big four's returns
Fundamentally the RBNZ's capital proposals spell lower returns for the big four banks, which last year made combined annual profit of $5.128 billion and paid their Aussie parents dividends of $3.39 billion.
UBS banking analysts Jonathan Mott and Minh Pham suggest the RBNZ's proposals mean ANZ NZ, ASB, BNZ and Westpac NZ's shareholders would have to accept a return on equity of about 10% to 11%, significantly lower than where it has tended to be in recent years in the mid teens, or even high teens. The argument is that the big bank shareholders aren't interested in accepting returns on equity as "low" as the RBNZ capital proposals would inflict upon them given they can make better returns in Australia.
The RBNZ chart below covers the quarter ended December 31, 2018.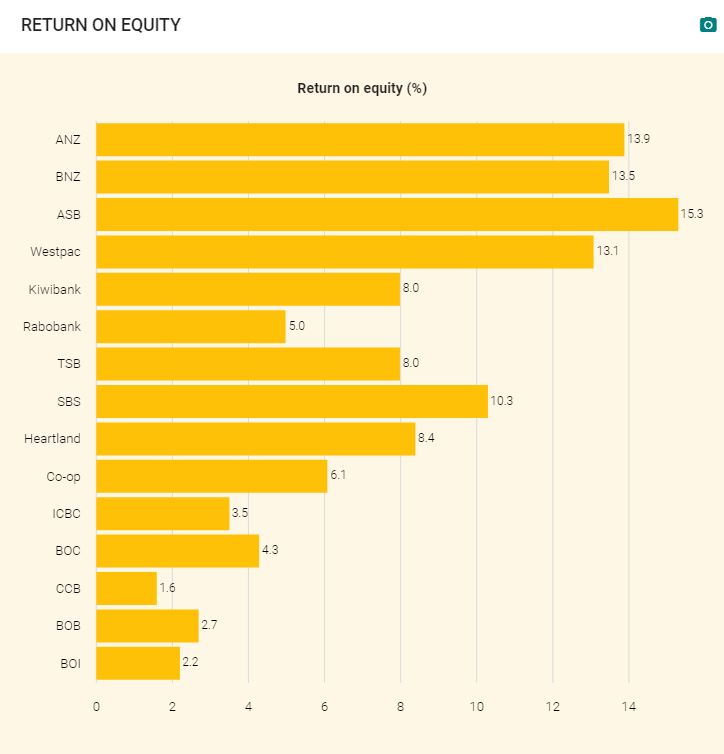 You can only charge what a market is willing to bear
Mott and Pham estimate the big four would want to increase their residential mortgage interest rates by between 80 basis points and 125 basis points, and probably also hike loan pricing for small businesses and dairy farmers, to maintain existing return on equity levels.
With the RBNZ proposing to phase in the increased capital requirements over a minimum of five years, perhaps NZ borrowers could absorb interest rate increases of that magnitude over that timeframe. However, right now the housing market in the key Auckland market is weak and the dairy farming sector is heavily indebted. Pushing through significant interest rate increases would slow the housing market further and risk fuelling an increase in banks' bad debts and potentially loan defaults.
The latest Real Estate Institute of New Zealand figures show sales volumes in Auckland were down 18% in March year-on-year, with the median price down $24,000, or 3%, to $856,000. And this is against a backdrop of assistance for the market from historically low mortgage rates (see chart below).
Neither dairy farmers nor SME owners appeal as borrowers that could quickly absorb a major increase in interest rates either. Federated Farmers latest banking survey shows farmer satisfaction with their banks at its lowest level since the survey began, with the Feds saying the Government's planned Farm Debt Mediation Bill would be "a useful tool in the tool kit." (Also see; Keith Woodford explains the decisions and behaviours that have led to dairy's debt-laden pickle).
Meanwhile, SME owners not using their home as security are likely to already be paying close to double digit interest rates, and at least two non-big four banks - Kiwibank and Heartland Bank - are keen to grow their SME lending.
As Deutsche Bank banking analysts put it, (see more from them below), you can only charge what a market is willing to bear.
And then there's savers. There's not likely to be much room for the big banks to squeeze depositors much more. In this low interest rate world, term deposit rates are already historically very low (see chart below). And NZ banks need deposits to help them meet their RBNZ enforced core funding ratio (CFR) requirements. The CFR requires banks to meet a minimum share of their funding from retail deposits, long-term wholesale funding and/or capital. The minimum CFR for each bank - on a daily basis - is 75%. 
At the time of writing the local five-year swap rate was just 1.77% with many economists predicting the RBNZ will have cut the OCR from its record low of 1.75% at least once by the time the RBNZ's expected to release its final bank capital decisions in the third quarter. Cutting interest rates on much needed deposits risks driving savers off in search of higher yielding investments, perhaps in the share market or property.
Anyone fancy a haircut?
Another argument has been the Australian owners may sell some shares in, or all, of their NZ subsidiaries given the RBNZ capital proposals would lead to reduced returns for them from NZ. The problem with this argument is potential buyers of these businesses will understand exactly why the shareholders are selling, if any choose this path. Thus the price fetched for the NZ banks could be expected to be at a lower earnings multiple than the Aussie shareholders currently value their Kiwi subsidiaries at. In financial terminology that's called taking a haircut. 
The big banks might "ration credit" in response to new capital requirements, slowing both the economy and their own business down. Something to keep in mind is if the RBNZ proposals go ahead, and the big four banks all act in unison in response, shouldn't the Commerce Commission be interested given their market dominance and hence market power?
Ultimately the best option for the big four banks to retain something near the status quo is to convince the RBNZ to water down its capital proposals.
How about lower dividends?
The focus of the proposed capital increase is so-called Tier 1 capital, which the RBNZ views as high quality capital, such as ordinary shares and retained earnings. In contrast to what UBS says, the RBNZ estimates the big four banks could meet the proposed new requirements by retaining about 70% of their expected profits over the five-year transition period, with no need to slow down the rate they've grown lending in recent years. It also estimates the increase in lending margins due to its capital proposals, the difference between bank lending and borrowing rates, will be 20 to 40 basis points assuming bank shareholders settle for a lower return on equity due to their bank's lower risk profile.
Jack Do, director of credit rating agency Fitch, recently told me the big four banks "won't need to do anything extraordinary" to raise the proposed new capital, but suggested a rethink of their current dividend distribution back to their Australian parents would be required.
And Deutsche Bank analysts Matthew Wilson and Anthony Hoo note the unique NZ banking market structure generates oligopoly-like returns, given the big four banks "print an average return on equity of 15% and remit 65% of earnings bank to their parents as dividends." Wilson and Hoo argue that every time big Australasian banks confront an external threat to the industry structure they use alarm as a point of negotiation. By some estimates the RBNZ proposals would see NZ overtake Norway to have the highest bank capital requirements in the developed world. But given the NZ market structure, the Deutsche Bank analysts say the RBNZ action "appears quite sensible."
Reducing leverage
In a February speech Geoff Bascand, RBNZ Deputy Governor and General Manager for Financial Stability, spoke of how highly leveraged banks are compared to other businesses, arguing this isn't in the best interests of New Zealanders.
"When we talk about bank capital, we are talking about where a banks gets its money. Banks get their money from two sources – either from the bank's owners, its shareholders - or by borrowing it, from people like us, often in the form of deposits. The money banks get from their owners is the bank's capital. The rest is borrowed – it is 'other people's money'. The average New Zealand bank gets around 92% of its money by borrowing it. Compare this with the average business in New Zealand, for which this figure is about 55%." 
"It is not clear to me why this discrepancy between banks and other businesses is so large, but perhaps at least part of it can be explained by the fact that, historically, governments have been much more reluctant to allow a bank to fail than other types of businesses, which may lead banks to operate closer to the edge. We believe that this balance of funding sources is not in the best interests of New Zealanders, which is why we are proposing change," Bascand said.
The RBNZ, he added, wants bank shareholders to have more skin in the game. Thus should the proverbial hit the fan, bank shareholders take a bigger hit meaning taxpayers face a smaller one.
"Put simply, skin in the game refers to the concept of having to bear the consequences of one's own decision-making. By having minimum 'skin in the game' requirements, banking regulators ensure that the owners of a bank have something at stake, something to lose. I would like to note that banks themselves lend on these very same 'skin in the game' principles, for example, by requiring mortgage borrowers to provide a deposit," said Bascand.
In an interview in February Orr told me bank shareholders' reward has been in excess of their risk. And, Orr says, the RBNZ is working from the perspective of society's risk appetite, not any particular bank's risk appetite, making the assumption New Zealanders are not prepared to tolerate a system-wide banking crisis more than once every 200 years.
"For every risk there should be a reward and when you look at the banking system globally that reward has been greater than the risk taken. And that happens because banks can take the returns, they don't have to wear all of the losses because the losses are socialised through bank bailouts and failure management and all of the things that we're still struggling to recover from in the Global Financial Crisis globally," Orr said.
Whilst, unlike the US and UK there's been no banking crisis in NZ in recent years, BNZ required a bailout as recently as 1989-90. And there have been a series of banking crises in NZ, as detailed here.
The cats who got the cream
For many years the Bank for International Settlements (BIS), the central banks' bank, measured the profitability of major banks in a range of countries across a series of measures. For six consecutive years until 2017 interest.co.nz crunched the numbers for NZ's big four banks and added NZ to the BIS bank profitability benchmarking table. (We weren't able to do this in 2018 as the BIS annual report didn't include the bank profitability benchmarking table).
This exercise consistently showed the NZ banks near the top of the pack when compared to their counterparts from both advanced economies and major emerging economies, and ahead of their Aussie parents. Our articles on this can be found here.
The owners of NZ's big four banks have been the cats that got the cream over the past decade. The RBNZ's capital proposals threaten to end, or at least disrupt, their halcyon days. Should the RBNZ proposals go ahead unchanged there could be some short-term pain for borrowers and savers. Given the market power of the big four banks it's difficult to rule this out. But a level capital playing field ought to boost competition in NZ banking, and longer-term, should we face a banking crisis, taxpayers ought to be less on the hook than they would be under the current bank capital regime.
*This article was first published in our email for paying subscribers early on Monday morning. See here for more details and how to subscribe.